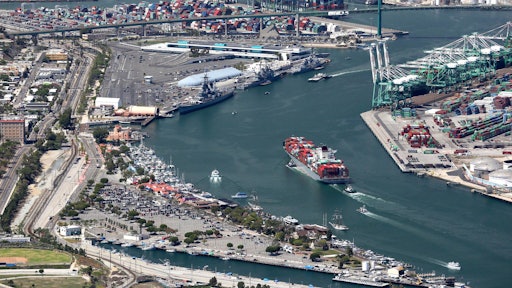 The nation's largest port complex approved a plan Thursday to slash air pollution by encouraging the phase-out of diesel trucks in favor of natural gas and, ultimately, zero-emissions trucks and cargo-handling equipment over the next two decades.
The Clean Air Action Plan, unanimously adopted at a joint meeting of Los Angeles and Long Beach harbor commissioners, provides a framework for transforming the massive hub for freight-moving trucks, trains and ships to cleaner technologies through 2035. But it leaves many details undetermined, including who will pay for up to $14 billion in cleaner trucks and equipment and which industries will benefit.
The plan is the most significant and expensive environmental initiative yet by the ports, which have sought to distinguish themselves from competitors over the last decade by pioneering air quality improvements, some of which have been replicated by other seaports and enshrined by California regulators.
To read the full original article, please click here.