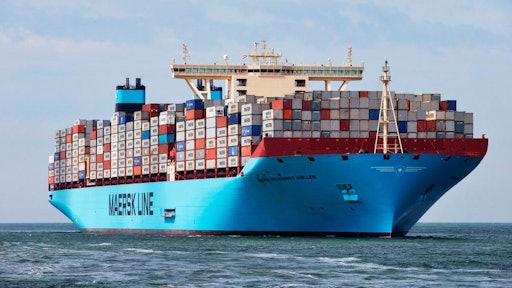 The ports of Los Angeles and Long Beach are investing $1 million to track pollution on a dozen container ships run by Maersk Line, the world's largest shipping company, officials announced this week.
Emissions from massive cargo ships account for more than half the pollution at the ports, with exhaust-spewing combustion engines that can be several stories high. Maersk will place tracking devices on 12 ships as part of a $125 million upgrade that includes an energy-efficient retrofit.
"This is equivalent to strapping a Fitbit onto a large container ship," Lee Kindberg, head of environmental efforts for Maersk Line, said in a statement.
The devices will record how much fuel each engine uses in conjunction with speed, engine power, weather and other variables. Information will be captured by an interface, then uploaded to Maersk Line servers via satellite. Each ship will be able to communicate in real time to increase operational efficiency, officials said in a statement.
Other aspects of the retrofit include redesigning the large bow of each vessel, replacing propellers with more efficient models, and working to ensure the main engines are more efficient at lower speeds.
To read more, click here.