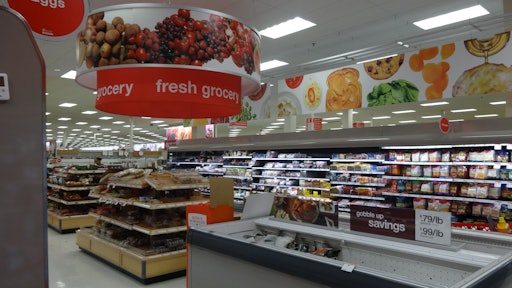 Target Corp. has announced that it's senior vice president of grocery Anne Dament is leaving the retailer on November 18. Dament was one of CEO Brian Cornell's first major hires, and is leaving after just 18 months in the role.
The makeover of Target's grocery aisles, an effort that started nearly two years ago, has taken longer than expected to materialize. And the changes that have been rolled out to stores, including adding hundreds of gluten-free and organic items to its shelves, have apparently not yet impressed shoppers enough.
Target representatives did not provide a reason for Dament's departure, although it's struggles to gain traction in grocery have been well documented. Officials in the company's last earnings conference call in August said they were "disappointed" in sales results in grocery and were "revisiting" efforts around presentation, assortment and promotion to improve its competitive position after reporting an unexpected comp-store sales decline.
"There's a little bit of surprise because this was Cornell's person," Brian Yarbrough, an analyst with Edward Jones, said of Dament's departure. "But on the other hand, the results on the grocery side have not been good."
As Target looks for a new grocery leader, he wondered if that means Target might also alter its strategy.
"They're just in a really tough spot," Yarbrough added. "They don't have enough groceries to drive people to the store regularly. Groceries for Target never turned out to be a destination like they thought it would be."
To read more, click here.