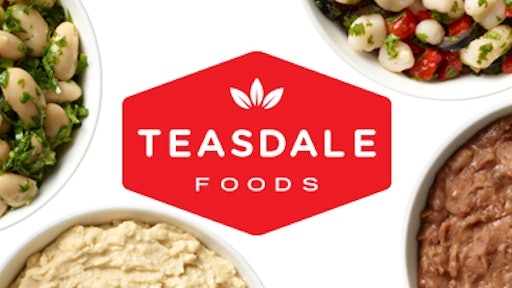 Teasdale Foods has acquired Mesa Foods, which is based in Louisville, Ky., for an undisclosed sum. Teasdale, which is majority owned by private equity firm Snow Phipps Group, is a leading national provider of private label and branded Hispanic foods to the retail, food service and wholesale channels.
Founded in 1984, Mesa is an industry leading producer of private label tortillas, flatbreads, taco shells, taco kits and chips. Mesa has successfully grown by partnering with customers and producing a wide array of high quality, innovative and versatile products for the Hispanic foods market.
The acquisition of Mesa further enhances Teasdale's national footprint in the Hispanic foods category. In combination with Teasdale's offerings in beans, hominy, salsa, hot sauces and now tortillas, taco shells and flatbreads, the firm is able to offer a one-stop shop of high quality Hispanic-inspired food products across the country.
"We are excited to welcome Mesa into the Teasdale family," said Chris Kiser, Teasdale's CEO. "Mesa adds tortillas to our portfolio, which are a core part of Hispanic snacking favorites such as quesadillas, wraps, fajitas, burritos and enchiladas. Teasdale offers all the product categories necessary to help bring the best of Hispanic food to consumers."
Mesa Foods will continue to operate as a division of Teasdale Foods with the existing management team continuing on with the business.
The transaction furthers advances Snow Phipps' strategy of building a comprehensive Hispanic foods platform diversified across product, customer, channel and geographic exposure. With the acquisition of Mesa, Teasdale is able to provide an entire suite of private label and branded Hispanic food products to a diverse customer base across a variety of channels including retail, food service, restaurants and wholesale. Teasdale is primed for continued growth as consumers increasingly focus on Hispanic meals and natural and organic products, and retailers focus on increasing the presence of their private label product offerings.
"We are pleased to have executed on a number of Teasdale's unique growth opportunities and look forward to our continued expansion," said Peter Shea, Teasdale's chairman and Snow Phipps' operating partner. "Mesa rounds out Teasdale's product offering and will allow us to drive further growth by providing customers with best in class products, service, innovation and market insights."
Added Sundip Murthy, partner and head of consumer investing at Snow Phipps, "We are pleased that we and our colleagues at Teasdale have been able to complete a number of highly complementary acquisitions. We are proud of the unique consolidation platform that we have built and are excited about the prospects for acquiring more businesses focused on this attractive segment."
Mesa is the third follow-on acquisition that Snow Phipps has completed in partnership with the management team since Teasdale was acquired in October 2014. In October 2015, Teasdale acquired Jardine's Foods, a producer of natural and organic sauces including salsas, dips, quesos, BBQ and hot sauces. In December 2015, Teasdale acquired Casa Fiesta, a provider of authentic Mexican foods in the beans, peppers, sauces, corn products and seasonings categories.
The terms of the acquisition were not disclosed.