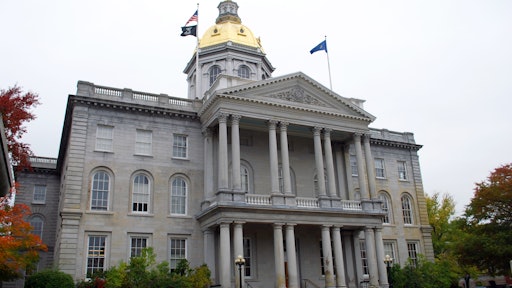 Today and tomorrow, the Rhode Island House Committee on Health, Education and Welfare and the House side of the New Hampshire General Court will hear bills about labeling food made with genetically modified organisms (GMOs), according to Food Safety News.
A bipartisan majority of the New Hampshire Environment and Agriculture Committee led by Rep. John O'Connor, R-Derry, has recommended against passage of House Bill (HB) 1674. New Hampshire's General Court hears both majority and minority reports on the floor. Rep. Peter Bixby, D-Dover, filed for the minority.
O'Connor says requiring labeling of genetically engineered foods was previously rejected by General Court, and remains unnecessary. He says the fiscal note estimates it would cost taxpayers $100,000 to $200,000 per year for additional personnel costs for the Attorney General to make rules, conduct civil investigations and take legal actions. In addition, it would impose unfunded mandates on New Hampshire's 16 self-inspecting towns.
On a 12-7 vote, the committee majority filed a report that suggests New Hampshire should support national labeling as outlined by the U.S. Food and Drug Administration (FDA) and the "SmartLabel" being developed by the food industry to allow a smart phone to scan an item for all available information about it including if there are any genetically engineered ingredients contained therein.
To read more, click here.
Editors Insight: The food industry needs to work harder to get a nationwide labeling law passed in order to prevent a patchwork of state laws that will be difficult and costly to meet. The Grocery Manufacturers Association has already incurred costs trying to stop the Vermont GMO labeling law that is scheduled to take effect in July of this year.
The U.S. House of Representatives has passed a bill to block state GMO labeling laws. However, the measure has stalled in the Senate.
Campbell Soup recently stopped opposing mandatory GMO labeling and announced that it supports mandatory national labeling. The national labels that Campbell Soup comes up with may not meet the requirements in states that enact their own GMO label rules.
If a national law isn't enacted, the food industry will find itself in a quandary trying to decide how to address state laws.
For supply chain companies, the order of business is to understand the tools they will use in gathering and communicating all types of food data. The food labeling debate and other debates increase consumers' and lawmakers' awareness of how to access food data. 2-9-16 By Elliot Maras