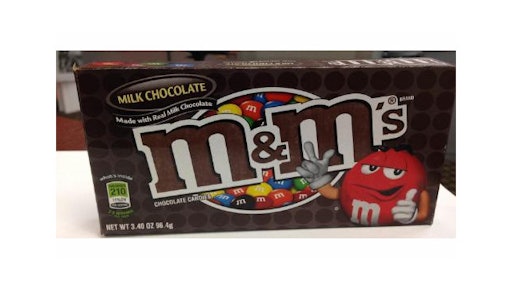 Mars, Inc. will remove all artificial colors from its human food products as part of a commitment to meet evolving consumer preferences.
Though many of the company's products are already free of artificial colors, by expanding the scope of the effort to its entire human food portfolio, Mars is making a commitment of significant depth and breadth. Products across the range of the company's chocolate, gum, confection, food and drink businesses will be affected by the change, which will take place incrementally over the next five years.
Artificial colors pose no known risks to human health or safety, but consumers today are calling on food manufacturers to use more natural ingredients in their products. Against this backdrop, Mars will work closely with its suppliers to find alternatives that not only meet its quality and safety standards, but also maintain the colors consumers have come to expect from the company's brands.
"Eliminating all artificial colors from our human food portfolio is a massive undertaking, and one that will take time and hard work to accomplish," said Grant F. Reid, president and CEO of Mars, Inc. "Our consumers are the boss and we hear them. If it's the right thing to do for them, it's the right thing to do for Mars."

Editors Insight: This marks a massive undertaking, which the company expects will take five years. In sourcing new ingredients for many of its products, the company will be changing a number of suppliers and in doing so it will overhaul parts of its supply chain. Many logistics service companies involved in the company's supply chain could be affected.
Mars' strategy includes partnering with suppliers to identify new ingredients and formulas that meet its safety and quality standards, addressing all legal and regulatory requirements, and creating accessible ways to gather input and feedback from consumers throughout the reformulation process.
While much of the focus in today's supply chain is on safety, this announcement demonstrates that safety affects the food industry in more than one way. Mars noted in its announcement that all of its ingredients are safe and meet the requirements of the FDA and the European Food Safety Authority (EFSA). The reason they are undertaking this massive overhaul is that consumers perceive artificial colors as less healthy than naturally-sourced colors. This is due to the impact of rising consumer awareness about food ingredients. No doubt, the Internet has played a role in this growing awareness. 2-9-16 By Elliot Maras