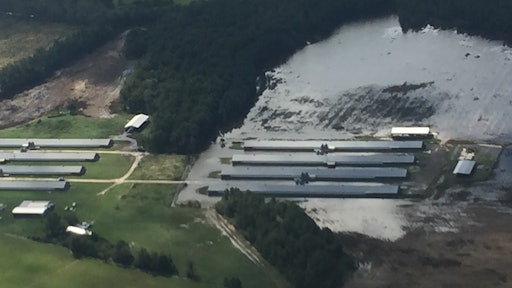 Crop losses from early October torrential rains in South Carolina, North Carolina and Virginia may exceed $300 million in the Palmetto State, according to The Packer.
South Carolina Department of Agriculture Commissioner Hugh Weathers toured the state by air Oct. 5 and 6.
During the fall, South Carolina harvests bell pepper, squash, greens and broccoli and produce's losses are estimated at $45 million, including loss of product in the field as well as prevented plantings, said Aaron Wood, assistant commissioner.
The estimate is early and conservative and viewing the devastation was the first step in the long process of assessing the damage to the state's agriculture, according to a news release.
After the tour, Weathers met with officials from the South Carolina Department of Agriculture, the U.S. Department of Agriculture's Farm Service Agency and Clemson University's extension service to begin initial damage assessments.
Other affected crops include peanuts, soybeans and timber and the impassible roads prevented access to farming operations.
Weathers witnessed the how the massive rainfall submerged thousands of farm acres under water with farm buildings standing as islands in the water and washed away farm roads, he said in the release.
To read more, click HERE.