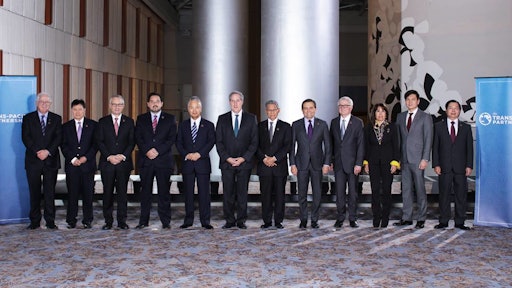 The U.S. and 11 other Pacific Rim nations on Monday agreed to the largest regional trade accord in history, a potentially precedent-setting model for global commerce and worker standards that would tie together 40 percent of the world's economy, from Canada and Chile to Japan and Australia, according to The New York Times.
The Trans-Pacific Partnership still faces months of debate in Congress and will inject a new flash point into both parties' presidential contests.
But the accord — a product of nearly eight years of negotiations, including five days of round-the-clock sessions here — is a potentially legacy-making achievement for President Obama, and the capstone for his foreign policy "pivot" toward closer relations with fast-growing eastern Asia, after years of American preoccupation with the Middle East and North Africa.
Obama spent recent days contacting world leaders to seal the deal. Administration officials have repeatedly pressed their contention that the partnership would build a bulwark against China's economic influence, and allow the U.S. and its allies — not Beijing — to set the standards for Pacific commerce.
The Pacific accord would phase out thousands of import tariffs as well as other barriers to international trade. It also would establish uniform rules on corporations' intellectual property, open the Internet even in communist Vietnam and crack down on wildlife trafficking and environmental abuses.
http://www.nytimes.com/2015/10/06/business/trans-pacific-partnership-trade-deal-is-reached.html?_r=0
Editors Insight: This trade agreement, while not finalized, could the biggest boost to global food trade ever. Food supply chain companies need to pay attention to these negotiations and develop a plan for addressing global trade opportunities. Food is one of the biggest areas this agreement covers.
Food supply chain service providers need to keep in mind that the flip side of new opportunities is a new level of requirements. As the supply chain globalizes, it becomes larger, creating more vulnerabilities that require a higher level of commitment among supply chain players. Food Logistics explored this challenge in its August cover story.
President Obama is highly committed to this agreement and there is enough time left in his tenure to complete it. According to this New York Times report, the most difficult points of contention have been resolved.
The food industry should use its lobbying muscle to ensure that this agreement doesn't fall victim to politics. This could prove difficult during presidential election season. There is too much at stake here for the food industry to allow politics to ruin this bill. 10-5-15 By Elliot Maras