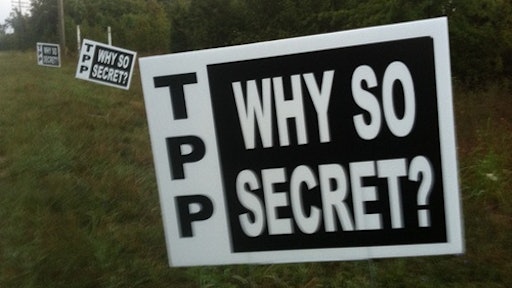 Trade negotiators from the U.S. and 11 other Pacific nations failed to reach final agreement on Friday, with difficult talks on the largest regional trade agreement ever deadlocking over protections for drug companies and access to agriculture markets on both sides of the Pacific.
Trade ministers, in a joint statement, said late Friday they had made "significant progress" and will return to their home countries to obtain high-level signoffs for a small number of final sticking points on the agreement, the Trans-Pacific Partnership, with bilateral talks reconvening soon.
"There are an enormous number of issues that one works through at these talks, narrowing differences, finding landing zones," said Michael B. Froman, the U.S. trade representative. "I am very impressed with the work that has been done. I am gratified by the progress that has been made."
Still, the breakdown is a setback for the Obama administration, which had promoted the talks here as the final round ahead of an accord that would bind 40 percent of the world's economy under a new set of rules for commerce.
President Obama's trade push had been buoyed by Congress's narrow passage in June of so-called fast track trade negotiating powers, and American negotiators had hoped other countries could come together once Congress had given up the right to amend any final agreement.
To read more, click HERE.
Editors Insight: The global trade agreement can do a lot to improve business ($300 billion worth, according to estimates), but the agreement needs to ensure that public safety will be protected. The food and beverage industry in particular should want the negotiations to include effective food safety mechanisms. The global food chain has already expanded faster than the supply chain's ability to halt food safety risks. The upcoming August Food Logistics explores how globalization has contributed to more food recalls in the U.S., despite improved food safety technologies and stricter food safety laws.
The trade talks have reportedly stalled over dairy and sugar exports, in addition to other products.
Some observers are already lamenting the stall in negotiations, which they claim favors China's rival grouping.
Food and beverage industries stand to gain a lot through a global trade agreement. They also stand to lose a lot if the proper safeguards are not part of the agreement. By Elliot Maras 8-3-15