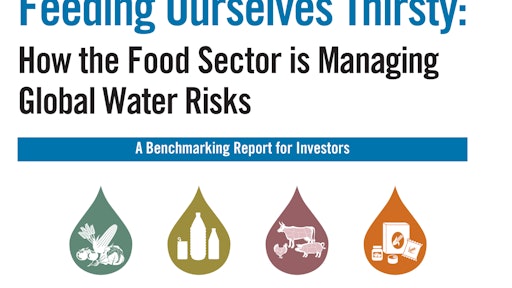 The food industry faces a major challenge managing water resources, according to a recent report, "Feeding Ourselves Thirsty: How the Food Sector is Managing Global Water Risks" by Ceres, a nonprofit organization mobilizing business and investor leadership on climate change, water scarcity and other sustainability challenges.
From farm to factory, producing food is the most water-intensive business on earth. Abundant clean water is essential to food processing – as an ingredient, for cleaning and moving raw materials, and as the principal agent used in sanitizing plant machinery. However, the vast majority of the food sector's water use and water pollution footprint is associated with the agricultural supply chain.
Seventy percent of the world's freshwater is used to irrigate crops and raise animals. Currently, one-third of total food production is in areas of high or extremely high water stress, or competition.
The run-off of fertilizers from farm fields is one of the most common causes of water pollution worldwide, causing dead zones, harming fisheries, affecting human health and raising water treatment costs.
This report identifies five important water risk drivers that affect the water security of the food sector: 1) growing competition for water, 2) weak regulation, 3) aging and inadequate water infrastructure, 4) water pollution and 5) climate change. These water risks are already affecting corporate income statements and balance sheets due to: disrupted operations and limits on growth driven by water shortages and loss of social license to operate; increased operating costs due to abrupt water rate hikes and stricter regulations; and reduced margins due to higher commodity costs linked to decreases in agricultural productivity.
Many food sector companies are acknowledging these risks: 82 percent of food sector respondents to the CDP's 2014 water information request indicate that water risks could have a substantive impact on business operations and 90 percent of the 31 publicly-traded U.S. companies evaluated.