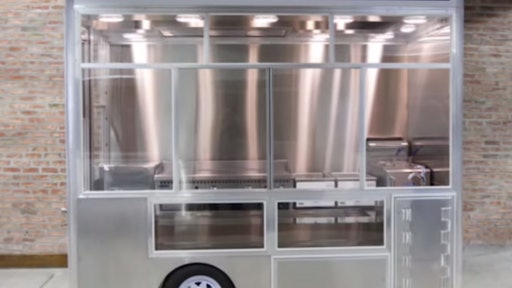 In the coming months, a new fleet of food carts is expected to hit the streets: hundreds of sleek mobile kitchens equipped with refrigerators and sinks and powered by solar panels, alternative fuel and rechargeable batteries, according to The Wall Street Journal.
In a pilot program set to be announced on Monday, MOVE Systems is providing 500 free carts, called MRV100 Hybrids, to vendors across the city, in partnership with the City Council.
"What's the quality of the air I'm breathing? What's the quality of the food I'm eating? These are the problems we're trying to solve," said James Meeks, chief executive of MOVE, the Queens-based company that developed the carts. "I hope there will be an opportunity for even more culinary options than exist today."
The carts—roughly 5 feet wide, 10 feet long and 8 feet high—can be built to accommodate different cuisines or styles of cooking. They will start appearing after Memorial Day, and many vendors have already expressed interest in trading their existing carts for the new ones, Mr. Meeks said.
To read more, click HERE.