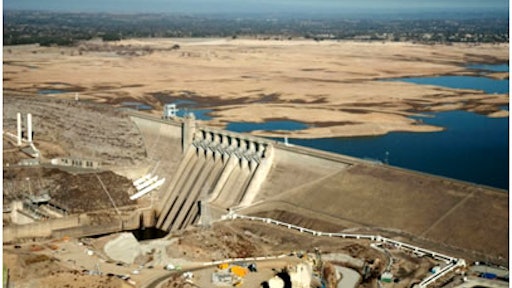 California Governor Jerry Brown, in his most sweeping action to combat a devastating multi-year drought, ordered residents and businesses on Wednesday to cut water use by 25 percent in the first mandatory statewide reduction in California history, according to Reuters.
The cuts mean industrial parks and golf courses must immediately cut a quarter of their water use on ornamental turf, and homeowners will be pressed to replace thirsty lawns with drought-tolerant landscaping. Farmers, already making do with less water for irrigation, will be exempt.
The move comes as California's snowpack, which generally provides about a third of the state's water, is at its lowest level on record in a sign the state's drought, now entering its fourth year, is far from over.
Standing in a field of dry, limp grass at a snow-monitoring station in the Sierra Nevada mountains, the fourth-term Democratic governor said the cutbacks would save some 1.5 million acre-feet of water over the next nine months.
"We're standing on dry ground and we should be standing on 5 feet (1.5 meters) of snow," said Brown, whose two non-consecutive stints in office have coincided with two of the state's worst droughts. "This is rationing. We're just doing it through the different water districts."
Brown said the state would develop rebate plans to help families and businesses remove a planned 50 million square feet (4.6 million square meters) of lawns, and replace old appliances with newer, more water-efficient models.
The cuts will be implemented by state and local water agencies, and different parts of the state will have to reduce their water use more than others, because some had already cut way back, Brown said.
Felicia Marcus, chairwoman of the state Water Resources Control Board, said regulators would not hesitate to issue fines of up to $10,000 a day to water districts that do not succeed in implementing the cutbacks.
To read more, click HERE.