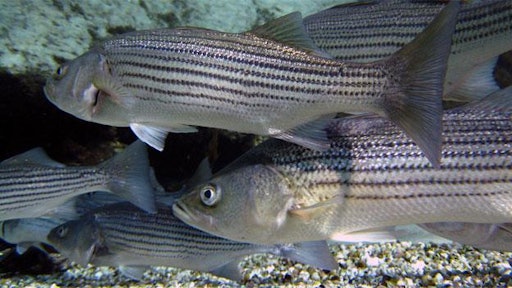 As striped bass numbers on the East Coast continue to decline, and more stringent restrictions are placed on their harvest by fishermen, an East Quogue entrepreneur has presented state officials with a proposal for an oceanic fish farm in which striped bass, and other species, would be raised in large floating cages off the South Fork in Suffolk County, N.Y., according to The Southampton Press in Southampton, N.Y.
Manna Fish Farms Inc., the brainchild of East Quogue attorney Donna Lanzetta, has pitched a state business incubator the idea of mooring as many as two dozen mesh-enclosed galvanized steel geodesic pods in the Atlantic Ocean, about three miles off the coast, where hundreds of thousands of striped bass could be raised and sold to seafood purveyors without any depletion of the wild population.

Lanzetta, who is the president of the East Quogue Chamber of Commerce, has billed the idea as an environmentally sustainable form of seafood production. The fish in the cages would be the brood of wild fish, but would not come from the wild population and would be fed with an organic food mixture that, she notes, is still being conceived.

"It would be a sustainable seafood source of the type the world is going to need going into the future," Lanzetta said this week. "We want to explore new components [to feed the caged fish], like algae, organic proteins, like mushrooms. We want a non-genetically modified, organic, sustainable produced product."

The fish would be placed in the cages as small adults and allowed to grow, protected from wild and human predators, until they reach a size suitable for use as seafood. The cages would remain in the water year-round.
To read more, click HERE.