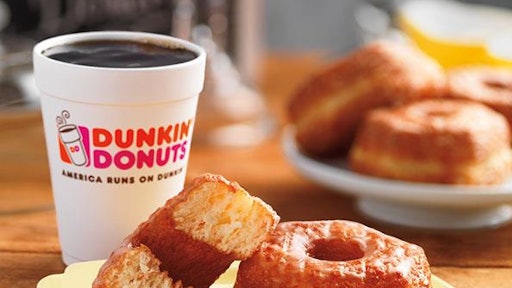 Dunkin' Donuts announced that it has signed the largest development agreement in the company's history with the goal of expanding Dunkin' Donuts in China. The company has entered into a long-term master franchise agreement in which Golden Cup Pte. Ltd., a joint venture between Jollibee Worldwide Pte Ltd. and Jasmine Asset Holding Ltd., a wholly-owned subsidiary of RRJ Capital Master Fund II, L.P. (RRJ), will serve as the franchisee and plans to open and operate more than 1,400 Dunkin' Donuts restaurants across China over the next 20 years.
The joint venture has exclusive rights to expand Dunkin' Donuts in new territories, including Beijing, Chongqing, Fujian, Guangdong, Guangxi, Guizhou, Hainan, Hebei, Heilongjiang, Hong Kong, Hunan, Jiangxi, Jilin, Macau, Shanxi, Sichuan, Tianjin and Yunnan. The opening of the first restaurant is expected in Q4 2015.
"We are delighted to enter into this relationship with Jollibee and RRJ, a group with a proven track record of success in the quick service restaurant industry in China and a deep knowledge of the consumer," said Nigel Travis, chairman and CEO, Dunkin' Brands. "Through this franchise development agreement, the largest in our history, we believe we can significantly expand and accelerate Dunkin' Donuts presence in China."
Dunkin' Donuts currently has more than 11,000 restaurants in 36 countries around the world, including 16 in China and more than 2,200 across the Asia Pacific region. Dunkin' Donuts restaurants in China feature the brand's wide range of hot and iced coffees, espresso-based beverages, teas, Coolatta® frozen drinks, bagels, muffins, croissants, donuts, and sandwiches, all served fast in friendly, convenient locations and at a great value. The brand also offers regional items to cater to local tastes, including a lineup of Mochi Ring Donuts.
"We are excited about the prospect of bringing Dunkin' Donuts to China. Dunkin' Donuts is a leading global brand in baked goods and coffee, and the China market offers a tremendous opportunity as its consumer base continues to grow in number and spending power," said Tony Tan Caktiong, chairman of Jollibee Foods Corp. "We look forward to working with Dunkin' Donuts and our joint venture partner RRJ to growing the presence of Dunkin' Donuts in China in the coming years."