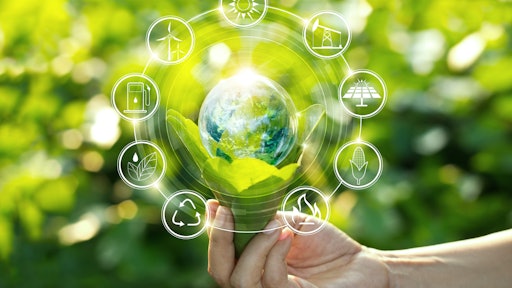 ipopba - stock.adobe.com
Biofuels made from feedstocks, like corn and soybean, are renewable options available for fleets. The current infrastructure for biofuel provides fleets a rapid, scalable and economically feasible way to reduce emissions and improve air quality.
The pressure to reduce emissions from the transportation sector continues to mount. While electric vehicles are getting a lot of attention, all options should be weighed carefully. To quote the sayings, "options are good" and "one size does not fit all," both are especially true when it comes to modes of transport and fleets. A recent analysis by the Rhodium Group concluded biofuels must be in the mix if we are to attain lower or net-zero emissions by 2050. For the transportation sector, biofuels are the most effective way to decarbonize right now.
Moline, Ill.
Located along the Mississippi and Rock rivers, Moline, Ill., is a major transportation hub that includes river barge, rail lines and two major interstate highways. Considered an urban forest, the city has worked hard to balance urban development and environmental stewardship, especially with air quality.
The city started using biofuels in its fleet in 2005 with B20 and E85. In fact, Moline invested in the fueling infrastructure for E85 before the first Flex Fuel Vehicles were purchased. Today, the city's fleet has 53 Flex Fuel Vehicles, including police interceptors and 79 trucks up to Class 8 that use B20 year-round, consisting of fire equipment, snowplows and sanitation trucks. The full fleet also includes vehicles that operate on compressed natural gas and electric, but the majority are biofuels produced from locally grown corn and soybeans.
At its central fueling facility, Moline Fleet Services provides E85 and B20 to fleets in neighboring communities, including Blackhawk College, Moline-Coal Valley School District, Rock Island Arsenal Fire Department and more.
According to the city's fleet manager, Sarah Mark, biofuels have proven to be a sustainable, smart and cost-effective way to meet sustainability goals and put dollars back into the local state economy.
Metro Courier & Jump Start Stores, Inc.
In Wichita, Kansas, Jump Start Stores, Inc. owns and operates 15 gas stations. Several higher blends of ethanol biofuels are offered, including E15, E20, E30 and E85. While the size of its fleet business is relatively small, Jump Start's goal is to increase the availability of biofuels in the area. For example, three years ago, Jump Start Stores purchased a retail store next door to Metro Courier's headquarters and now services its 38-vehicle fleet. Now, they have increased volume of higher blends at all locations and employees fill their personal vehicles with biofuel because they like the performance and price point in comparison to traditional fuel choices.
Northern Colorado Clean Cities
The stakeholders of Northern Colorado Clean Cities have found E85 and B20 reduce greenhouse gas (GHG) emissions compared to petroleum-derived gasoline, provide more horsepower and are less expensive to run for their operations. In Northern Colorado, 915 light-duty E85 light/heavy-duty biodiesel fleet vehicles have reduced greenhouse gas emissions over 928 tons per year. The elevation and mountain ranges make air quality a challenge, but biofuels are making a positive impact on air quality.
Ball State University
The campus fleet at Ball State University in Muncie, Ind., has approximately 100 vehicles that run on E85 and 31 on B20. After the campus started to implement drop-in transportation solutions, like E85 and B20 biodiesel, it allowed the school to provide cleaner air across the campus and community while protecting fiscal and natural resources.
Ball State has used B20 biodiesel in campus equipment and shuttle buses for more than 10 years. Biodiesel is a reliable and sustainable fuel that supports our local economy and farmers, improves the performance of our vehicles, and helps to reduce our impact on the environment and air quality.
Benefits of biofuels for fleets
§ Biofuels are a simple solution for combating climate change and improving air quality.
§ Biofuels cost less per gallon; from 3 cents to $1 less than regular unleaded and diesel.
§ Biofuels replace toxic additives, which burns cleaner, leaves less residue buildup in engines and reduces toxic emissions up to 50%, including smog and ultra-fine particulates linked to cancer.
§ Carbon intensity of biofuels vs gas/diesel
­ Ethanol is up to 46% less carbon intensive than petroleum gasoline.
­ Biodiesel is up to 86% less carbon intensive than petroleum diesel fuel.
§ Biofuels are grown and produced in the United States, which reduces our dependence on other countries for oil/gas production and electric battery components.
§ Biofuels convert waste and byproducts into valuable renewable fuels that drastically reduce harmful tailpipe emissions, combat climate change, boost the economy and support energy independence and resiliency.
§ A majority of biofuels are shipped via truck or rail, providing an important market for fleets.
§ In 2020, the production of ethanol and co-products supported 62,180 direct jobs and contributed $34.7 billion to America's gross domestic product.
Ethanol benefits – E85 (Flex Fuel Vehicles) and E15/Unleaded88 (2001 and newer vehicles)
§ Flex fuel vehicles (FFVs) enable fleets to take full advantage of the performance and air quality benefits of ethanol fuels by allowing fleet administrators to choose the ethanol blend that best fits into their existing operation.
§ Unleaded88 provides an immediate carbon reduction for fleets and is compatible with the majority of fleet vehicles on the road today.
§ Ethanol is a high-octane sustainable fuel for gasoline engines that burns cleaner and boosts engine performance.
§ Ethanol reduces the amount of residue buildup in engines; reduces wear and tear maintenance issues for fleets.
Biodiesel benefits
§ Corn and soybean oils provide superior cold-flow characteristics that enhance fleet's ability to operate on biodiesel year-round.
§ Biodiesel slashes particulate matter emissions by nearly 50% in older diesel engines.
§ Biodiesel is recognized as an Advanced Biofuel under the Renewable Fuel Standard (RFS) for reducing lifecycle carbon emissions by a minimum of 50% over petroleum diesel.
Fleet study on E30 Biofuel
A University of Nebraska study found the use of gasoline blended with 30% ethanol had "no observable negative effect" on the performance of non-FFVs. The study tested 50 state-owned vehicles and looked at the adaptability, feasibility and environmental impact of using E30. Fuel efficiency was a 3% or less difference between E15 and E30 test vehicles. If E15 would carry a 2.5% price premium to E30, the higher ethanol blend would become the more economically viable fuel.
How to implement biofuels into your fleet
§ Start small and start now with "drop-in" options:
- E15/Unleaded 88, approved for 2001 and newer vehicles, including light duty trucks and SUVs.
- B20 is approved by all major diesel engine manufacturers.
- E85 in all FFVs.
§ Locate FFVs, hybrid/conversion systems and engines at https://afdc.energy.gov/vehicles/search/ (includes light and heavy duty)
or http://www.e85vehicles.com/wp-content/uploads/2019/11/FFV2020.pdf
§ Look for clean engine technology in the heavy-duty truck, off-highway and industrial markets nearing commercialization that eliminate complex aftertreatment solutions.
§ Clean Cities Coalition and many alternative fuel groups work with large private-sector fleets that operate in multiple states to implement transportation projects. The initiative provides fleets with resources, expertise and technical support to evaluate incorporating domestic alternative fuels and fuel-saving technologies and strategies into their operations.