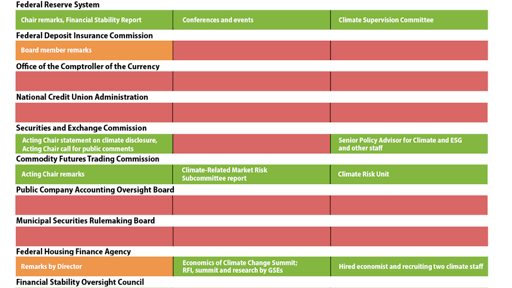 Ceres
Despite recent progress from some financial regulatory agencies, the majority of U.S. financial regulators still lag far behind their global peers and far behind what scientists and economists deem necessary to protect the U.S. financial markets from the systemic risks posed by the climate crisis, according to a new report released from the Ceres Accelerator for Sustainable Capital Markets. 
"We've taken stock of where things stand, and the good news is that more regulators than ever are stepping up and speaking out about the systemic financial risks of climate change. The bad news is that they aren't moving fast enough, many of their peers aren't moving at all yet, and the dangers of inaction are mounting by the day," says Steven M. Rothstein, managing director of the Ceres Accelerator for Sustainable Capital Markets at Ceres.
From Ceres:
Significant developments in policy, regulation, finance and society include the U.S. election of President Biden, the COVID-19 pandemic and response, intensifying extreme weather, systemic racism and environmental justice.
Momentum has grown for action by U.S. financial regulators in recent months.