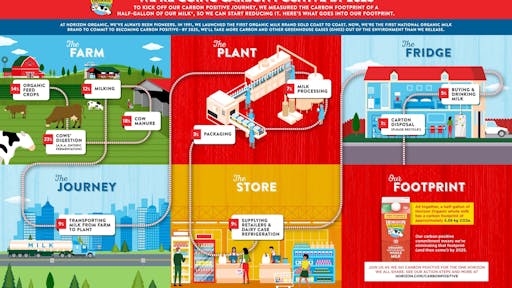 Danone Horizon Organic
Horizon Organic published its life cycle assessment (LCA) on its whole milk half gallons, providing a look into the brand's goal to become the first carbon positive dairy brain in the United States by 2025.
"Time is not on our side when it comes to climate change, and it's the responsibility of businesses to act with urgency and transparency," says Deanna Bratter, head of sustainable development at Danone North America. "Releasing Horizon Organic's carbon footprint is only the first step in this journey. We're now focusing on partnerships and investing in our family farmers to implement carbon reduction projects to meet our ambitious carbon positive by 2025 goal."
The LCA entails everything from enhancing soil health and enriching animal welfare to improving processing, packaging and distribution.
"Horizon Organic pioneered organic dairy 30 years ago and continues to raise the bar by committing to being carbon positive by 2025," says Regan Ebert, president, premium dairy at Danone North America. "We know consumers are looking for more than a product today and we're proud that Horizon Organic is farming for our future."
Horizon first announced its commitment to becoming carbon positive last year. 
From PR Newswire:
The results of the LCA confirmed that:
Two-thirds of Horizon Organic's greenhouse gas (GHG) emissions come from on-farm activities such as soil management, enteric fermentation, manure management and milking.
The remaining one-third of emissions come from off-farm activities such as manufacturing, transportation, final product, packaging and end-of-life.