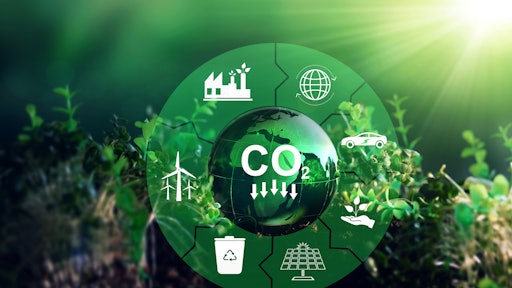 Miha Creative AdobeStock_484607009
In recent years, the global food sector has undergone a series of seismic shocks that have redefined the landscape of supply chain management. Unexpected events from pandemic disruptions to energy supply crises stemming from geopolitical tensions, have compelled companies to reevaluate strategies and enhance resilience. Amid these challenges, the escalating impacts of climate change pose an additional hurdle.
The impacts of climate change are disrupting food supply chains in many areas across the world. For example, in Germany, Aldi has opted for stocking local produce due to heat and drought in Spain. Food shortages in the UK are mainly caused by lower production yields due to adverse weather conditions in Africa. And last year, French stores ran out of Dijon mustard following high temperatures in Burgundy and a drought in Canada.
The impact of climate-driven disruptions goes beyond localized events and needs to be incorporated in supply chain plans. According to analysts, people designing infrastructure and working in agriculture need to plan for the worst scenarios. More frequent and unfavorable weather conditions are imposing changes in the timing of harvests and disrupting the transport of goods, while also impacting production infrastructure, yields and product quality. Coastal and low-lying areas are particularly vulnerable. Flooding, whether coastal or inland, can damage ports, warehouses, factories, and other facilities in addition to wiping out crops.
Climate change also affects supply chain costs. Rising transportation, energy, and raw material expenses are driven by many factors including inflation, fuel prices, carbon pricing, and climate-related regulations. In addition, customers are more and more interested in the sustainability of products, increasing near-term production and supply chain costs by driving demand for transparency and traceability in operations. Adopting traceable and sustainable approaches may raise upfront costs; however, the long-term benefits, including the ROI, often outweigh the upfront investment. As climate change continues to increase complexity and uncertainty to supply chains, the journey toward supply chain resilience has emerged as a paramount priority.
Operationalizing supply chain sustainability
These rising challenges underscore the urgency to accelerate the implementation of more sustainable practices. Supply chains are a critical area where businesses can make a significant impact. Recently, U.S. Special Presidential Envoy for Climate John Kerry highlighted that agriculture production alone is responsible for 33% of the world's total greenhouse gas emissions and stressed the need to reduce those emissions in the quest to fight global warming.
Making operations more sustainable benefits not just the environment, but also the bottom line. More and more organizations are recognizing this, especially as they align sustainability to cost efficiency. According to IDC, sustainable operations remain a priority, and while external pressures (consumer demand and regulatory) are of top concern, cost is a key driver of sustainable efforts.
Leveraging supply chain planning software to build resilience
The pressing need to build resilience and agility so one can pivot in response to crises is driven both by the mounting frequency and intensity of extreme weather events as well as by the recognition that the food sector's future viability hinges on its ability to anticipate and navigate these ever-evolving challenges.
Leveraging the power of advanced supply chain planning software has therefore become a strategic necessity. As companies navigate a landscape increasingly characterized by uncertainty and volatility, the tools at their disposal must be as agile and adaptive as the challenges they face.
Here are some of the key areas where supply chain planning technology helps companies build more resilient supply chains to navigate the challenges:
Enhanced supplier collaboration. Climate change is challenging core commodities in the industry. Gartner recently highlighted the situation is putting popular food brands at risk, leading to an increasing number of companies seeking out alternative sources or pushing toward more sustainable ingredients.
Just like Aldi's German stores have switched to sourcing local produce following weather disruptions, many businesses are adopting nearshoring strategies and shifting to nearby suppliers to mitigate risks.
Collaboration and strengthening the relationships with suppliers is becoming more important amid supply chain shortages and disruptions. Today, companies must engage their wider supply chain ecosystems, including suppliers, customers, and internal and external stakeholders to seamlessly connect decisions and operations and innovate in this challenging environment.
Supply chain planning software enables comprehensive data sharing within the end-to-end supply chain network and facilitates collaboration and alignment, to share information and resources more effectively and drive joint initiatives.
Increase visibility with digital supply chain twins. To foster agility based on strong collaboration in a complex environment, it's critical to increase visibility beyond the four walls and create a panoramic digital view across the supply chain network with the ability to model at a finer level of detail.
Digital twins offer increased visibility by creating a virtual replica of the supply chain, allowing companies to model scenarios, evaluate outcomes, and recommend actions to support decision-making. With a digital supply chain twin, companies can plan and gain the flexibility required to continuously adapt amid change and uncertainty.
Understand the impact of decisions. Advanced technology such as digital twins and what-if scenarios empowers supply chain planners to envision the impact of different decisions before implementing them. Running scenarios to test the impact on business costs, service levels and profitability is an effective strategy to decide the best course of action to take.
Stress testing involves simulating scenarios to identify vulnerabilities and weak points in the supply chain. This helps identify potential areas for improvement in response to shipment cancellations, delays and other disruptions, mitigate risk and quickly pivot.
By combining stress testing capabilities with climate change-related factors, food industry players can fortify their supply chains, reduce risks, and adapt to the changing landscape of food production and distribution.
Conclusion
Climate change impacts are putting immense pressure on food supply chains worldwide, and the problem is not going away. Unpredictable weather patterns, droughts, floods, and heatwaves have caused significant disruptions to agricultural production and distribution networks. The impact extends beyond immediate disruptions, as long-term changes in crop yields are anticipated to trigger migrations in food-insecure regions, making it harder to harvest and manufacture products consumers need.
Companies must adopt proactive measures to build resilience and ensure the steady flow of goods to consumers. Rather than adopting a reactive approach to disruptions, it's critical to take a proactive stance and embrace the latest technology in supply chain planning to increase visibility and collaboration, anticipate risks, make better informed decisions and improve resilience.