metamorworks AdobeStock_484354328
Sheer Logistics introduced customized ESG dashboards designed to empower clients to track and measure their Scope 3 carbon dioxide (CO2) emissions in real-time across all modes of transportation in the supply chain.
"Scope 3 transportation-related emissions represent a significant share of global greenhouse gas emissions (GHG), but many mid-market shippers lack the visibility they need to successfully manage their emissions to their carbon reduction goals," says Rob Cook, CTO at Sheer Logistics. "SheerExchange empowers shippers by making it easy to capture and measure their CO2 emissions, so they know where to focus their decarbonization initiatives for maximum impact. We are proud to support our clients in their mission of building more sustainable supply chains."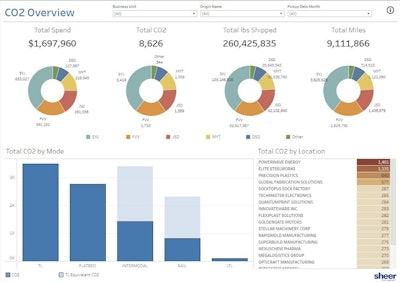 From PR Newswire:
S

cope 3 CO2 dashboards are enabled by SheerExchange, Sheer's proprietary integration Platform as a Service (iPaaS). SheerExchange acts as a "universal translator" that quickly and seamlessly connects and automates the supply chain,

including vendors and industry leading technologies such as ERPs, fuel programs, rating engines, real-time transportation visibility platforms (RTTVPs) and more.

SheerExchange connects disparate systems, normalizes and warehouses the aggregated data, and provides easy access to actionable business intelligence.