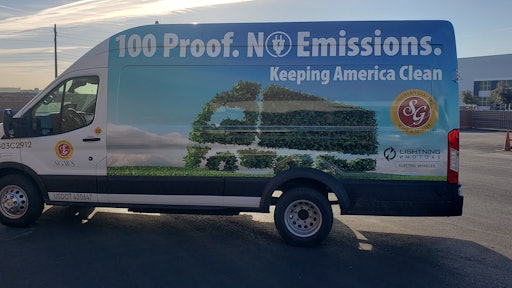 Southern Glazer's Wine & Spirits
While world leaders are focused on reducing greenhouse gas emissions and tackling climate change, businesses are also in the hot seat when it comes to developing viable sustainability initiatives. The issue is undoubtedly complex, requiring the involvement of governments, businesses and individuals alike.
The President of the United States has promised to decrease U.S. emissions by at least half by 2030, which is nearly double what the country had agreed to under the Paris climate deal. This equates to an overhaul in the way sustainability plans are being created and executed across the board, from reimagining energy-efficient facilities, to fleet emissions and waste management—all of which impacts industries across the board, including the beverage world.
Looking at sustainable fleets specifically, there are numerous steps that a beverage company can take to reduce emissions, increase route efficiency and safeguard the wellbeing of employees.
It's electric!
Given the fact that electric vehicles can reportedly emit 64% less carbon emissions than petrol cars, it's clear that electric vehicles have the capacity to significantly contribute to cleaner air around us and to our overall footprint.
Piloting a handful of electric vehicles in a select market or two for a six-month period is a great place to start. Monitor and document findings throughout the course of the pilot period, including weight, battery life, carbon footprint and driver feedback. Chances are the case for introducing electric vehicles into your fleet (or perhaps adding more) will be a no-brainer, and moving the majority of the fleet to electric will become a long-term goal and priority for your business.
It is prudent, nonetheless, to be aware of a couple of key challenges. Trucks are designed to be light to maximize payload and electric vehicle batteries are heavy, resulting in reduced fuel efficiency. Medium duty electric vehicles also provide a range of 120 miles per day. You may be running 250 miles a day or more, and with customer demand as high as it is, finding the time to charge a vehicle for 30 minutes to an hour is just not feasible. Although the battery technology is not quite there when it comes to medium duty electric vehicles, it will be in the near future. That makes now the ideal time to begin testing if you aren't already.
Gotta-have-it features
Just as safety protocols and technologies are essential to operating a safe fleet, so too are sustainability features and technologies key to operating a sustainable fleet. Deploying features like five-minute idle shut off on all diesel engine trucks, installing governors, and implementing trailer tire pressure regulators are just a few simple ways to get rolling in a greener way. Governors on trucks prevent exceeding a particular mile per hour, while trailer tire pressure regulators increase miles per gallon. Requiring aerodynamic truck and trailer specifications, as well as fuel-efficient engine packages, should also be non-negotiables for all new trucks brought into the fleet.
Working closely with commercial vehicle manufacturers makes a big difference where specs are concerned. By remaining in constant conversation with OEMs, you can stay at the forefront of decisions made and express the need for specifications that are unique to your business and that of a beverage delivery vehicle.
Forklift fleet
Running electric doesn't stop at commercial vehicles on the road. The forklifts buzzing around your warehouse also apply and moving a forklift fleet to fully electric is the way to go if you haven't already. Doing so creates a better environment in the warehouse by allowing you to run cleaner with zero fumes. It's good for both your employees and the environment, making it a win-win.
Become a SmartWay Carrier Partner
Going it alone in this process is never easy or advisable. By partnering with the Environmental Protection Agency (EPA), you can measure, benchmark and improve freight transportation efficiency with ease. The SmartWay Program helps carriers demonstrate their efficiency achievements, show continuous improvement and learn best practices to become even better.
Climate change doesn't have to be an elusive, unattainable concept. It's happening all around us, with every decision made, and it's up to all of us to make every decision count. The time to develop or enhance your business' sustainability plan is now. Making sure your initiatives are actionable and measurable, with the ability to effect change is what will ultimately drive your business and the future of our planet forward, and it's the only route to take.