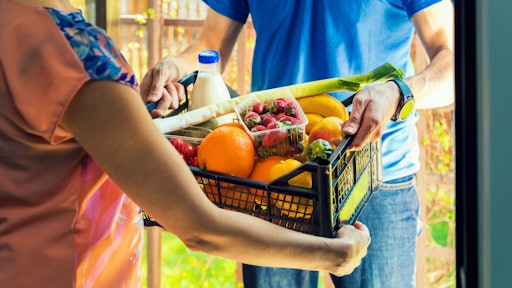 Getty Images
Despite some supply chain shortages, consumers continue to seek sustainable food options. From the farm through to the shelf and fridge, sustainability continues to drive market behavior. According to the Food Marketing Institute and Label Insight, 75% of consumers say they're willing to switch to products that provide in-depth information beyond the packaging.
COVID-19 however has created some short-term challenges.
For instance, on the farm, produce rots and milk is tossed down the drain. According to Reuters, "Despite strong consumer demand for basic foods like dairy products amid the coronavirus pandemic, the milk supply chain has seen a host of disruptions that are preventing dairy farmers from getting their products to market."
Demand is virtually non-existent from restaurants and institutions (schools, for example) that would typically account for this production capacity.
The current market presents two significant challenges:
· Supply chain disruption. How do producers deal with a sudden upheaval in their product suite caused by shocking market conditions?
· Innovation. How can food manufacturers tweak and bring new products to market while still maintaining market-facing sustainability goals?
What can food producers do to adapt to the new reality of constant change and supply chain disruptions?
Digitize sustainability
Sustainability is accomplished through understanding your suppliers -- a better way to do this is through the use of digital technologies. Organizations can eliminate process delays in ensuring sustainability through improved supplier management. They can streamline the entire supplier onboarding and ongoing management processes to mitigate short-term changes to market conditions, such as with:
· Certifications and audits. Audits and certifications are key to making market and label claims. Now is the time to think through how much of this process is managed on paper, spreadsheets, and emails and how to streamline those processes to ensure compliance.
· Inbound ingredient testing. Most organizations use paper certificates of analysis (COA) to determine if the supplier's ingredients and packaging meet their specifications. By changing the paper document to data, food manufacturers can systemically know that whatever comes into their factory meets their specifications.
· Non-conformance management. Digitally managing supplier non-conformances (SCARS) can reduce the time to resolution. This process typically results in an up to 50% reduction in inbound problems, and an up to 75% reduction in resolution time.
Innovation
The second area that will require change is innovation. How does a food manufacturer adapt to market changes in weeks rather than months or years?
Data is the key.
A digital supply network provides a key technology element in making innovation happen in these areas:
· Customer order management. Streamlining customer orders and using predictive analytics on those transactions enables food manufacturers to be more agile in scheduling production.
· Procurement. Using technology to automate the procurement function enables agility when orders change. It eliminates many manual processes, allowing the core systems to take care of the details. Staff is used to manage exceptions to ensure that production commitments are met.
· Logistics. As with procurement, automating the logistics processes with both large carriers and the many "long tail" carriers enables focus on exceptions so that delivery commitments are better understood and shelf stock-outs don't happen.
The second innovation capability comes from collaboration on new products. For instance, many food companies shift from smaller packages to larger packages so that people don't have to shop as frequently. They may find this opportunity to explore a reduced carbon footprint in packaging, logistics, or other measures. Electronically collaborating on specifications enables organizations to adapt quickly to market conditions.
These capabilities allow the supply chain to adapt to changing conditions while keeping commitments to sustainability and innovation.
Food manufacturers must adapt to the radical changes that have been thrust upon them while maintaining their market commitments to sustainability. To find out where to begin, look for paper, spreadsheets and email process silos, and how those tools have affected innovation and execution. Food producers can no longer schedule change. Change has been thrust upon them, and it is time to begin investing in digital technologies to ensure financial and market-driven sustainability requirements.