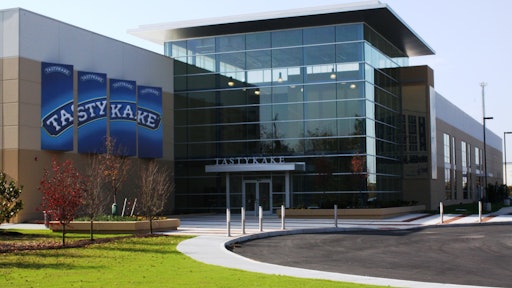 U.S. Green Building Council (USGBC)
For the foodservice industry, green warehouses and distribution centers are simply good business. They can lower operating costs, support employee and community health and well-being and minimize a company's environmental impact.
While green building practices have evolved over the years, LEED (Leadership in Energy and Environmental Design) remains the most widely used green building rating system in the world. LEED has defined what it means to be a green warehouse or distribution center, and now lays the foundation for what comes next.
Globally, there are more than 1,300 LEED-certified warehouses and distribution centers with more than 870 of those located in the United States. LEED is a roadmap for how new or existing structures, as well as interior spaces can be designed, constructed and operated to promote sustainability. The rating system provides a comprehensive approach with tailored guidance for warehouses and distribution centers. It considers a variety of factors, including energy, water and waste, as well as location and transportation, materials and resources and indoor environmental quality. The result of pursuing certification through LEED is a healthy, highly efficient and cost-saving green building.
LEED has been used across the foodservice industry since the early 2000s and is a trusted sustainability tool for many companies, including Mars Food, Lidl, Conagra Brands and more. It's served as a reliable framework for the sector to standardize sustainable design and operations across a portfolio. It's been particularly effective in helping these spaces reduce energy use through lighting efficiency.
For spaces that aren't refrigerated, lighting is often the main energy use. As consumers become more interested in supply chain sustainability and the content and production of their products, green building becomes a relevant way to demonstrate a commitment to healthy and sustainable practices.
In 2014, McDonald's food supplier Golden State Foods used LEED to demonstrate its commitment to sustainability when it constructed a new distribution center in McCook, Ill. The structure achieved LEED Gold by implementing a number of green building strategies that helped reduce its impact on the environment and support the surrounding community. During construction, Golden States Foods recycled or re-used 87% of waste and didn't remove any soil from the site. To help reduce water use, it installed a 40,000-gallon cistern on the roof to collect rainwater to irrigate the facility's landscape. To help reduce emissions, the refrigeration and freezer are cooled using an energy-efficient ammonia CO2 cascade refrigeration system that uses non-ozone-damaging chemicals containing zero CFCs. To support workers on-site, a variable air ventilation system helps improve air quality and 65% recyclable carpeting and noise-deafening ceiling tiles to reduce air contaminants and improve comfort.
In 2019, more than 155 warehouses and distribution centers became LEED-certified, and by the end of the first quarter of 2020, another 35 joined the ranks. As the industry becomes more aware of the benefits of green building, not only have the number of companies adopting LEED increased, but the rating system has also evolved to continue pushing the market toward practices that benefit the triple bottom line of people, planet and profit.
The current version, LEED v4.1, continues that tradition while bringing greater awareness to human health and well-being. In addition, LEED v4.1 encourages teams to focus on performance data in an effort to help make more informed decisions and better manage what they're measuring.
In the 20 years since LEED launched, it's transformed global building practices. Many of the strategies once considered new, such as low VOC paints, LED lighting systems, green roofs and more, are now practices more people expect to see incorporated into building design and construction. As a holistic green building rating system, LEED remains the leadership standard, but the U.S. Green Building Council (USGBC) has also been looking at opportunities to encourage new kinds of green building leadership.
In 2018, the organization announced LEED Zero, a new net zero certification for LEED buildings. The program recognizes the achievement of net zero carbon, energy, water or waste, and to date, more than 20 projects are participating.
The first foodservice project was certified in Brazil, a Coca Cola warehouse, achieving LEED Zero for Energy, which recognizes a space for reaching a source energy use balance of zero over a 12-month period. The interest in net zero buildings has been growing and will continue to be an important goal for transitioning the industry to be more sustainable.
When considering where the biggest green building opportunities lie, existing buildings top the list. Recognizing that not all existing facilities might be ready to pursue LEED, USGBC created a pathway to certification through Arc that recognizes incremental improvement. Arc is a free online performance platform that helps buildings and building portfolios track sustainability performance across energy, water, waste, transportation and occupant experience. Non-LEED projects can benchmark performance, monitor progress to see how decisions impact sustainability and take steps that get them closer to certification. Arc provides category level certificates that recognize performance improvements made in each of the five categories. When a project has been recognized in all five categories, it is ready for LEED certification.
The ability to make warehouses and distribution centers more sustainable depends on all buildings taking steps to improve performance. LEED provides a holistic framework for how to get there, but USGBC is also focused on writing the next chapter.
In November 2019, USGBC introduced LEED Positive, a roadmap for a future of LEED that is regenerative. The intent is to lay the foundation for how the rating system will transition away from strategies that simply reduce harm to those that cause no harm and begin the process of healing and repair.
USGBC leaders are working on next steps and how that journey will begin. This work is part of USGBC's belief that better buildings equal better lives. The foodservice industry has an important role to play in improving the quality of life for all, and LEED continues to be a tool leveraged by the industry to demonstrate progress and improvement.