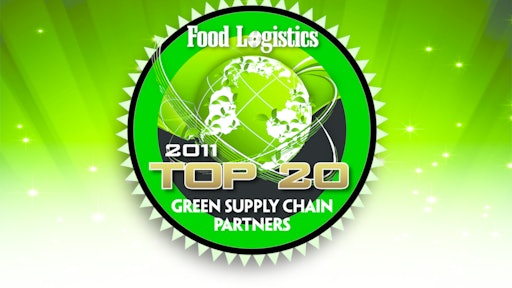 For the first time, Food Logistics is recognizing solution providers that have developed pioneering, innovative and creative products, services and programs to help their food and beverage customers achieve sustainable or "green" goals.
Sustainable best practices not only better for the environment, but contribute to the bottom line as well and these recipients are helping the industry to reduce their carbon impact in a variety of ways.
The editorial staff compiled this alphabetical list after evaluating dozens of nominations.
1. AFS Technologies Inc., Phoenix
Technology solution provider
The AFS Technologies suite of software solutions and strategic partnerships promote green initiatives and help customers reduce their carbon footprint by providing:
Paperless document storage: AFS' software eliminates the need for manual processes, increasing productivity and order accuracy.
More efficient transportation: AFS' WMS software allows for shorter and more efficient trucking routes that can be monitored and modified based on revenue per route.
Leaner facilities: Through sales force automation, the company's software solutions help minimize redundancy in business processes and maximize production.
2 .C.R. England Inc., Salt Lake City
Third-party logistics provider
C.R. England is committed to using the most up-to-date and effective equipment available. Equipment improvement areas include aerodynamic tractor and trailer technology, as well as tire strategies using the most efficient dual tires available and super singles on its day cabs and aluminum wheels to reduce weight. C.R. England uses super light-weight day cabs in both its regional and intermodal service offerings. Idling strategies, speed reduction and driver training is also applied to reduce its carbon emissions. Technologies have been put into place to better optimize its network with help in reducing dead head and empty miles. The company recently introduced TempStack, which are 53-foot reefer intermodal containers, into its fleet.
3.Cascade Sierra Solutions (CSS), Eugene, OR
Fuel and emission reduction
CSS is a non-profit organization dedicated to saving fuel and reducing emissions from heavy-duty diesel engines. The agency provides clean diesel and truck modernization solutions for carriers wishing to reduce their Green House Gases and fuel consumption. Through grants and tax incentives, combined with affordable financing, CSS is able to help trucking firms that might otherwise not be able to access the innovative technologies and solutions. The agency has assisted fleets and independent, owner-operators of freight equipment in intermodal and long haul locations located in all lower 48 states. CSS measures the number of trucks modified and the miles traveled with the modifications, and is able to report an accurate statistic for GHG, www.cascadesierrasolutions. org an updated "progress report." The daily fuel savings is currently 14,000 gallons per day and growing.
4. CaseStack, Fayetteville, AR
Third-party logistics provider
From energy efficient warehouse upgrades to its Retailer Consolidation Program, CaseStack's solutions are based on a common sense model—reduce waste and maximize efficiency by streamlining processes and consolidating resources. The company has also partnered with SmartWay to reduce greenhouse gas and air pollutant emissions. CaseStack is always applying more sustainable business practices to its business as well as encouraging and enabling its customers and partners to also apply more sustainable business practices to their businesses.  Some of its green programs include:

Energy efficient facility upgrades: The company has installed devices called "Vending Misers" on vending machines that cut energy use by approximately 40 percent. CaseStack's IT department uses an application called "Easy GPO" that enables easy set up for computers to go into sleep mode when not in use after 15 minutes. The company purchases facial tissue and napkins made from 100 percent post-consumer content recycled paper from Staples.
Green carrier matrix: CaseStack rates carriers based on a few different "green" factors. And every year it awards the carrier with the best rating a Delivered Green Award. Deciding factors include: SmartWay transport partner, green certifications, biofuels, engine modifications, tire modifications, body modifications, idling practices, speed policies, etc.
Retailer consolidation program: CaseStack collaborates with with 3pls, retailers, other manufacturers, and carriers to minimize emissions while maximizing cost savings.
Streamlined, waste-reducing technology platform: CaseStack has a paperless web based tech platform that provides reporting, visibility and decision-making tools to enable customers to make better choices with better information (ie greener choices).
Each year, CaseStack present the Delivered Green Awards to recognize those clients committed to sustainable logistics, providing them with metrics and marketing resources to communicate that commitment to their customers. To qualify, clients must use CaseStack's Green Carriers to ship more than 40 percent of their orders in a calendar year.


5. Coast Truck Centers., West Sacramento, CA
Maintainence, repair
Coast Truck Centers are West Coast-based centers that provide repair and maintenance services for engines, trucks, trailers and tractors. The company also specializes in transportation refrigeration and recently installed the Carrier hybrid unit—Vector 6500—at its locations. The unit features a clean-burning 2.2-liter direct-injection engine that surpasses the requirements of the U.S. Environmental Protection Agency's Tier 4-interim standard and outperforms competitive units with regard to particulate emissions. The unit can be equipped for electric standby, allowing it to be plugged into grid power when parked rather than running the diesel engine, thus eliminating emissions and fuel consumption, reducing noise and lowering operating costs.
Due to the less efficient add-on nature of standby components in a conventional unit, Vector units can deliver up to 85 percent more cooling capacity in standby mode than a conventional unit. And through the elimination of many commonly replaced items, such as belts, there is less waste destined for landfills.
6.  DSC Logistics, Des Plaines, IL
Third-party logistics provider
Although energy-saving and waste-reduction programs have been implemented on a location-by-location basis for many years, DSC's coordinated company-wide sustainability program was launched in 2009. A supply chain partner for a number of leading grocery manufacturers—and with more than 50 years of experience in the business of food and consumer goods logistics and supply chain management—DSC's selection and implementation of initiatives has been influenced by the sustainability needs and goals of those customers.
For example, because grocery distribution requires a high volume of corrugate, DSC named corrugate recycling as one of six 2010 sustainability initiatives. As a result, 100 percent of DSC logistics centers now recycle corrugate. One of the largest logistics centers involved in this program has recycled approximately 36.6 tons of corrugate in 2010, the equivalent of 5,557,600 sheets of paper, or 450 mature trees. The nationwide program involves 36 additional LCs.
Another way in which DSC is reducing paper waste is by looking for creative ways to more efficiently package products. For one key customer, a producer of cereal and snack products, DSC suggested a reconfiguration of a cereal box modular display that reduced waffle dunnage from every unit. This initiative will save the customer more than 800,000 pounds of dunnage per year, reducing costs and helping the environment. 
A number of DSC's smaller customers are involved in a transportation consolidation program known as MOST (Multi-Vendor Optimization Strategy). By consolidating LTL orders and converting them to efficiently utilized truckload (TL) deliveries to major retail customers such as Wal-Mart (DSC is one of three providers recommended by Wal-Mart for its Remix program), significant reductions in fuel emissions are achieved.
Reduction in fuel emissions is also a goal of DSC's strategic transportation management and optimization capabilities, as customer networks are modeled and redesigned to improve efficiency. In addition, DSC is certified as both a logistics provider and a carrier partner in the SmartWay Transport Partnership, a collaborative effort with the U.S. Environmental Protection Agency to increase energy efficiency while significantly reducing greenhouse gases and air pollution. 
DSC has also instituted other energy reducing initiatives across its 15 million square foot network of buildings including: energy efficient warehouse lighting using motion sensors and sky-lights, vending machine motion detectors that reduce energy usage, upgraded HVAC systems, high efficient fork-lift battery chargers and a variety of site specific efforts aimed at reducing paper, water and energy usage.
7. FST Logistics, Columbus, OH
Third-party logistics provider
FST is a 3PL that develops partnering programs mirror the same goals its customers. For example, FST will reduce the carbon footprint of a customer's energy usage by replacing all light fixtures with new Energy Star lighting and motion activated lighting to reduce overall usage. The company will also recycle pallets and packaging, maintain cooling units frequently to ensure efficient usage and add new insulation to cooled areas of the warehouses.
8. Garick LLC, Cleveland
Reclamation, recycling
Garick, a distributor and processor of sustainable natural resource product, converts hundreds of thousands of tons of waste from landfills and reproduces it into organic mulches, soils and biomass fuel. The company is working with food processors and retailers as well as food service operators and restaurants to minimize their waste while reducing what is delivered to landfills.
About 72 percent of food waste can be diverted from landfills and turned into compost, but, in the U.S., only about 2 percent of organic waste is composted. Composting is the natural process of decomposition and recycling of organic material into a humus rich soil amendment known as compost. Fruits, vegetables, dairy products, grains, breads, unbleached paper, napkins, coffee filters, eggshells, meats and newspaper can be composted. If it can be eaten or grown in a field, it can be composted
Garick's composting facilities and partnerships are located throughout the U.S. An expert in composting, the company is an active member of the United States Composting Council (USCC) and the Mulch and Soil Council (MSC). It measures the tonnage of waste picked up and composted on a monthly basis. To date, Garick reports that composted food waste has tripled in the last three years.
Composting 21 million tons of food waste has the same environmental benefits as taking 2,000,000 cars off the road.
9. Green Express, Atlanta
Temperature controlled rail transportation
Railroad transportation is the greenest way to ship product around the country. Green Express is a dedicated refrigerated train that provides regularly scheduled service into selected areas throughout the U.S. The company can deliver perishable product five to seven days earlier than by traditional means, such as ocean vessels and tractor/trailers. Increasing the freshness of perishables by up to seven days gives those products that much more time on retail shelves. In addition, being in a controlled environment means better quality products and minimized waste while reducing a product's carbon footprint by as much as two-thirds.
This sustainable approach means lower cost to shippers and retailers—as well as a cleaner distribution channel. Green Express helps its customers reduce in transport cost per pallet; reduce handling costs; reduce total miles; reduce on CO2 emission per pallet; reduce in lead and transit times; and an experience an increase in freshness.


10.  Inmar Inc., Winston-Salem, NC
Third-party logistics provider
Inmar reverse logistics services help further clients' sustainability goals in a number of ways. Its re-marketing services, for example, kept 181,250,000 pounds of material out of landfill in 2010. And, its donation program resulted in 2 million boxes of food product being provided to create 6 million meals for the needy in 2010. This product otherwise would have gone to waste. Supply chain services, such as packaging studies have helped clients reduce product packaging, while ensuring that new more environmentally friendly packaging does not increase damage to product (which ultimately results in waste).

Most recently, Inmar has implemented supply chain technology with transportation analysis capabilities that enables Inmar to determine for its clients the most efficient distribution of product in the forward and reverse supply chains by utilizing the appropriate facilities within our facility network or by optimizing the client's own network of facilities. Clients can validate that their returns process uses the most efficient routes and combination of facilities. The results calculated have been compelling within a relatively short timeframe.
For example, by implementing better transportation sourcing and networking for distribution, Inmar determined that a large mid-west grocer could save 10 million miles per year. Through returns network optimization, another client has the potential to save 3.7 million miles per year. And, the technology shows that another could save approximately 200,000 miles per year through implementing an improved returns network. Through these clients alone, nearly 14 million miles of transportation can be eliminated—a measurable and significant reduction in carbon footprint.
11. INSIGHT Inc., Manassas, VA
Technology
INSIGHT provides strategic supply chain planning solutions to companies like P&G, Chiquita, Dr. Pepper/7Up, Mott's, Nestle Water, PepsiCo and others. Re-evaluating a company's supply chain, from purchasing, planning and managing the use of materials to shipping and distributing final products—with an emphasis on environmental performance—lead to savings. INSIGHT's software provides the ability to visualize the entire supply chain, then simulate various changes to this model, such as using alternative fuels, sending via ocean vs. land, finding ways to use byproducts, alternative transportation routes, etc.

For example, there are many operational and green advantages to manufacturing locally in the U.S. rather than outsourcing to Asia.  Outsourcing to Asia is intuitively not green. It creates a 12,000 mile supply chain, which adds other issues, such as risk of manufacturing interruption, poor product quality, and higher transport costs, such as from two sets of docking fees, and higher inventory levels to accommodate transit time. Companies would be wise to source products locally to eliminate long, costly cross-country transport runs to deliver products. Purchasing locally significantly reduces transportation costs and carbon emissions while allowing for a more rapid response to replenishment and time to market.

INSIGHT help companies conserve energy in their supply chain networks by:
Studying the environmental impact of supply chain processes in an organization;
Creating optimal transportation routes to use fewer gallons of gas or fuel;
Using alternative shipping methods (air, rail, land, sea?);
Streamlining operations within the transportation yard, and in/out of warehouse so trucks don't sit there idling and wasting fuel;
Looking at the use of alternative fuels and sources;
Using alternative materials to avoid having to get environmental permitting fees;
Recycling of materials to lower waste disposal
Modeling alternative designs of facilities, production lines, etc. to reduce size of footprint;
Planning the optimal supply chain network to eliminate waste;
Focusing on source reduction to reduce waste;
Minimizing the bad (raw materials, energy, waste) outputs and maximizing the 'good' outputs (products, profits);
Defining under-utilized resources and determining if the supply chain would work best by eliminating them or using that resource more.



12. Jungheinrich, Houston
Lift trucks and related equipment manufacturer
For decades, Jungheinrich has been focused on developing energy-efficient products and solutions for the grocery and foodservice industries, including Class 1 Electric Counterbalanced Trucks, Class 2 Moving Mast Reach Trucks and Class 3 Walkie and Walkie End-riders. 
The company's work in this area dates back to 1996, when Jungheinrich first developed its proprietary 3-phase AC technology. Using this technology, Jungheinrich's AC-powered electric lift trucks reclaim otherwise wasted mechanical energy from braking and load lowering, and instead, convert it back to electrical energy and feed it back to the battery. This technology results in an extended battery life and a longer work cycle on a single battery charge. With fewer battery charges, businesses experience a measurable reduction in their overall energy consumption—a prime benefit for customers, regardless of the size of the fleet.
Grocery and foodservice distributor customers are also able to measure the results in these efforts by counting the reduced number of battery changes per shift in addition to the number of batteries required for their operation. Jungheinrich's AC-powered electric trucks also produce zero emissions, providing another benefit for customers seeking to reduce their overall carbon footprint.

Jungheinrich's research and development projects also continue to include evaluation of environmental concerns. During a recent five-year period, Jungheinrich spent an average of $52 million per year for research and development, including a project focused on further reducing the operating temperature of the batteries used in our electric vehicles. The benefits to the user are fewer battery changes, more work accomplished on a single battery charge and less energy needed to perform the charge..
Junheinrich measures these efforts through routine comparison testing against similar products offered in the industry as well as customer feedback. As an example, the Jungheinrich 4,500 lb. capacity EJE 120 electric walkie pallet truck, tested with a 160 Ah battery pack, moves more than 20 to 34 percent more pallets than competitor's trucks under the same conditions. Results proved that the Jungheinrich EJE 120 moved 20 percent more pallets than Competitor A, 34 percent more than Competitor B and 26 percent more than Competitor C.

The Jungheinrich 3,300 lb. capacity EKX 515 turret truck, tested with a 980 Ah battery pack, moves more loads on one battery as compared to competitive products. This includes the turret truck operating for 12 hours on one battery, equating to 60 percent more run time against Competitor A and 58 percent more run time against Competitor B.

Since Jungheinrich products have a longer run time off one battery, customers also benefit from an overall reduction in hydrogen gas emissions, which are emitted each time an electrical battery is charged.
13. LeanLogistics, Holland, MI
Technology     
LeanLogistics GreenLanes addresses the long-standing challenge of aligning shipper demand with available carrier capacity across all lanes. Optimization of this scope—touching virtually all important lanes in the U.S. supply chain—is possible by the transparency of aggregate volume moving through the LeanLogistics network. The net effect is that shippers reduce their empty miles and overall transportation costs, while enjoying premium service. Carriers increase asset utilization, enabling them to earn higher levels of profitability. In the case of retailers, who often own their own private fleets, this optimization is often in the form of back hauls, and reducing their deadhead miles substantially by marketing their capacity to other shippers within the LeanLogistics network.  Users of GreenLanes can easily measure their percentage of empty miles before and after using GreenLanes, with documented reductions of empty exceeding 50 percent.
14. LTW Intralogistics Inc., Emigsville, PA
Storage/staging equipment
The back bone for any LTW automated warehouse is its line of stacker cranes. These machines can move and store product weighing thousands of pounds to heights of 144 feet. This could, if not controlled, consume a lot of 480 volt 3-phase AC power on which most stacker cranes operate. Recent LTW advances in the area of PLC control software, allows the LTW stacker crane systems to greatly reduce energy consumption. 
By harvesting power from all mechanical movement and closely monitoring and controlling every stacker crane task, any single amp of unused power can be re-directed to other stacker cranes, single crane components, conveyor system, or even back into the power grid.  The energy savings range from 25 to 35 percent.
If a company is applying for LEED certification or any other recognized status, the energy saving provided by the LTW warehouse can certainly go a long way to help with the points for accreditation.
15. Next Generation Logistics, Inverness, IL
Technology
NGL's FreightMaster TMS solution enables shippers to take part in the SmartWay program by tracking and managing their carbon index score. Furthermore, the system allows users to easily identify which carriers participate in the Smartway program and those that don't, to make a more informed business decision at the time of tender. Additionally, FreightMaster TMS helps shippers reduce miles and maximize capacity in building optimal routes and reducing their carbon index.
NGL's TMS solution has extensive dash boarding and custom reports to capture the results of calculating carbon index.
16. Palmer Food Service, Rochester, NY
Foodservice distributor
Palmer Food Service worked with its 3PL to reduce its daily deliveries down from 20 trucks to 17 trucks each day—and save over 100 miles on each trucks.
17. PAS_Americas, Rolling Meadow, IL
Automated material handling systems
PAS_Americas' PowerStor racking system is a cost-effective warehouse storage solution. It reduces 80 percent to 100 percent of labor costs combine that with the energy efficient design that will reduce energy usage by as much as 90 percent vs. traditional racking systems and up to 60 percent less than crane-based storage systems. The system also cuts carbon emission in up to 50 percent when compared to conventional racking systems.

The unique design of the VTU allows it to remain in a fixed position while the transfer carriage travels vertically. This feature eliminates the need for an aisle-traveling crane which significantly reduces energy usage and utility costs.

The PowerStor fits more pallets in the same floor space than any other storage solution—that means dedicating the non-operating space for green projects or environmentally sustainable areas such as trees or grass. It also means utilizing an existing facility space rather than building a new one.

PAS also offers Energy Efficient Carts, which feature an innovative design that eliminates the need of having a large energy-intensive crane device traveling the distance of the storage system.
18. Randall Manufacturing, Elmhurst, IL
Temperature zoning products
Randall Manufacturing has introduced the industry's first Green Line of Bulkheads.  The Green Line of Bulkheads is manufactured with Polyisocyanurate, commonly known as Polyiso, a superior rigid foam board insulation used primarily on the roofs of commercial buildings and schools.  Utilizing reclaimed Polyiso as the foam core of the Green Line of Bulkheads not only spares solid landfill waste, but also provides the highest R-value per square inch of thickness. The R-value of the Green Line of Bulkheads is approximately 33 percent higher than that of the average bulkhead R-value.  A higher R-value promotes greater energy efficiency which ultimately means less fuel consumption. 
Randall Manufacturing's sustainability program, entitled Positive Impact, emphasizes its commitments to the environment, the community and employing America's workforce.  The Green Line of Bulkheads demonstrates Randall Manufacturing's commitment to environmental sustainability by creating products that provide superb thermal properties, recycled content and are Earth friendly. 
Randall Manufacturing has proudly collaborated with Target Corp. to help further its company-wide sustainability commitments.  In 2011, Target outfitted 20 percent of its new trailers with Randall Manufacturing's Green Bulkheads.  The use of Green Bulkheads will assist Target in achieving its milestones to reduce landfill waste, improve energy efficiency and reduce its carbon footprint.
19. States Logistics Services Inc., Buena Park, CA
Third-party logistics provider
States Logistics has started providing green shipping and transportation methods with biodiesel fuel and is converting its entire fleet to run on B99 biodiesel fuel. B99 is a blend of 1 percent diesel and 99 percent biodiesel, which yields significant environmental benefits. The environmental results the company has witnessed thus far have been dramatic. They include:
Each biodiesel powered tractor is the equivalent of removing 18.6 cars from the road each day;
100 percent decrease in the amount of sulfates released to the atmosphere;
75 percent decrease in carbon dioxide emissions.
States Logsitics has also teamed up the the National Biodiesel Board to measure and report results.
20. Werner Enterprises, Omaha, NE
Third-party logistics provider
Werner is a member of the SmartWay program and has the highest rating possible by truckload carrier. The company encourages its grocery and food service distributors to join SmatWay as it allows them to make fair determinations on their carriers' commitment to going green.

Through extensive analysis and design, the company has worked closely with its customer base to provide very efficient supply chain solutions. This allows the customers to decrease dead heads and out-of-route miles which reduces significant fuel consumption in the support of their networks.

Werner has and continues to purchase the most advanced aero dynamic equipment along with the tools that can be added (trailer skirting, super single tires, APU's, etc) that will produced increased improvement in its fleets MPG results.

Werner has also implemented improved freight movement strategies such asi conversion, cube optimization, and increased routing designs/optimizations that allow all fewer trucks to haul the same amount of freight across the networks.
Companies in this article