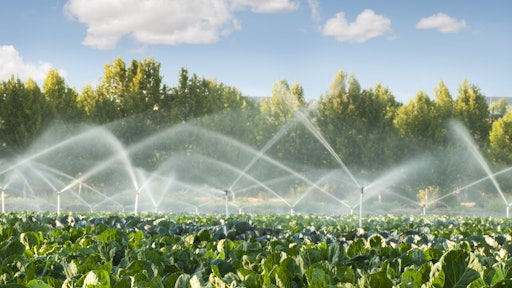 Deyan Georgiev - stock.adobe.com
Agriculture supply chain management (SCM) is responsible for the production and distribution of all fruits and vegetables, animal-based products and more. Agriculture supply chain includes farmers, transporters, warehouses, retailers, suppliers and consumers. It also includes new product development, operations, distribution, finance, marketing and customer service. A coordinated supply chain involves structured relationships among producers, traders, processors and buyers.
There is a change in the food basket of the consumers toward high-value products like fruits, vegetables and animal protein, owing to rise in disposable income of consumers around the world, especially in developing countries like India. So, governments of these emerging economies are focusing on inviting private investment in agricultural marketing infrastructure by diminishing numerous entry barriers and promoting coordinated supply chain. For instance, different states of India have implemented the amended APMR Act, which aims to promote setting up private markets, contract farming and direct marketing.
In addition, agriculture players have discovered that modern technologies can play an important role in maximizing the complex agriculture supply chain. Today's information-driven, integrated supply chains are enabling agricultural firms in reduction of inventory costs, addition of product value, extension of resources, acceleration of time to market, while also retaining customers.
Moreover, a significant measure by actions taken or not taken at one or more links in the chain determines the cost incurred in other link in the chain. This is why proper coordination and planning are essential for the entire supply chain such as forecasting, production, purchase scheduling, product launch, sales promotion and more.
According to a report published by Allied Market Research, the global agriculture supply chain management market size is anticipated to grow considerably in the coming years. Certain factors such as a significant rise in demand for agricultural products, adoption of modern agricultural techniques, surge in adoption of blockchain technology, government initiatives and more are driving the growth of the market in more than one way.
However, the outbreak of the Coronavirus disease (COVID-19) pandemic led to a negative impact on the global agriculture SCM market. The implantation of global lockdown resulted to several travel and transport restrictions, which in turn, disrupted the supply chain of agriculture around the world. At the same time, shortage of labor, issues in the arrangements of the transport vehicles, fluctuations in prices, inefficient cold chain facilities, rise in prices of fertilizers and pesticides, lack of aggregators and other factors hampered the market to a global level. Nevertheless, the key market players are currently focusing on new strategies to overcome the loss, due to which, the global agriculture SCM market is recovering at a fast pace.
Furthermore, agricultural firms are investing in integrated SCM systems and infrastructure. Multiple models are popping up where farmers or growers are required to follow certain specifications, fruit and vegetable retail outlets that directly obtain products from farmers through contractual arrangements, modern infrastructures that consist of cold storage, ripening rooms and controlled atmosphere chambers. Out of these, contract farming for fruits and vegetables is already being practiced in several economies. These models are sequentially boosting the growth of the global agriculture SCM market.
On top of that, digital advancements are offering a way to optimize the agriculture supply chain. Artificial intelligence (AI)-driven algorithms explore all possible planning and scheduling combinations and variables. Data storage capacity has significantly increased, storage cost has dropped and computational power has grown, which is why the agriculture industry is able to capture more data with the help of digital technologies such as the weather, soil, logistics, price fluctuations and so on. With this drift on board, the global agriculture SCM market is soon going to gather immense growth opportunities.