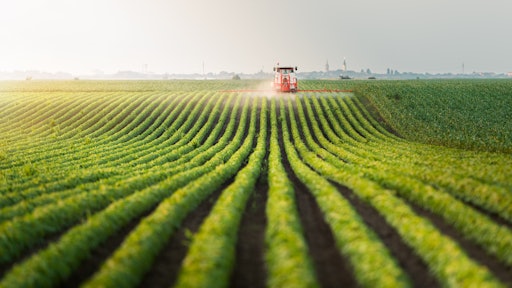 Dusan Kostic - stock.adobe.com
The current volatility in global trade has significant implications for American farmers. Amid the conflict in Ukraine, tensions with China and the everyday volatility of agriculture, U.S. farmers are facing challenges outside of their control. In order to secure a competitive edge, diversifying our nation's trade partners will be critical. To better understand this importance, here are three important aspects of international agricultural trade that are impacting American farmers right now.
1. The U.S. and Mexico potato trade ruling
Mexico is one of the most influential trading partners for the United States. In fact, the
USDA
predicts
Mexico to replace Canada as the second-largest U.S. ag trading partner
after China in 2022. The dispute over U.S. potato imports in Mexico has lasted over 20 years. Since 2011, there has been limited access to U.S. potato trade in Mexico, placing strain on U.S. potato growers. Despite existing trade barriers, the United States currently exports an estimated
$50 million worth of fresh potatoes
every year. And once Mexico grants U.S. potato growers full access to trade,
the value of U.S. potato exports to Mexico
is expected to go from $50 million to $150 million per year. In a long-awaiting step forward, the Mexican Supreme Court issued a draft ruling in February 2021 that it supports full access to export trade for U.S. potato farmers.
Finally, on March 28, 2021, Mexico's top court ruled in favor of granting U.S. potato farmers full access to trade with Mexico. However, Mexico still hasn't permitted full access for U.S. potato exports.
Fortunately, they have taken an important step toward achieving this goal. In November 2021, Mexico published phytosanitary requirements for U.S. potato imports, signaling progress in opening their borders to these imports. These requirements outline the necessary characteristics of potatoes, proper packaging, and other steps necessary for shipment. Expect to see full access for U.S. potato export trade finally come to fruition this year.
2. The future of the U.S. and China trade relationship
By now, you have likely heard that China failed to fulfill its end of the Phase One trade agreement. Despite the failed agreement, last year's ag purchases from China were the highest on record reaching $33 billion. China is expected to maintain its standing as the largest U.S. agricultural market with a forecasted $36 billion in U.S. agricultural exports this year. It is important to note, however, that China has announced an increased focus on strengthening their domestic food production, pointing toward less export trade for U.S. farmers. The trade relationship with China is of high importance to U.S. growers because the retaliatory trade war has contributed to a narrowing of the U.S. trade balance. For the foreseeable future, China will remain an important trade partner.
Under the Phase One agreement, China agreed to purchase $80.1 billion in agricultural goods from 2020-2022. However, it ended up missing the threshold and only purchased $61.4 billion worth of agricultural goods.
In addition to the shaky Phase One agreement, China's food safety laws are another challenge facing U.S. farmers. In an effort to address its food safety issues, China has implemented new food safety standards, laws, and regulations over the past two decades. Under these laws, commodity exporters must pass audits and register with Chinese authorities. In addition, there is a hefty list of strict regulations that imported food must adhere to. Each year, China refuses thousands of shipments that do not comply with these standards. From 2013-2019, U.S. imports in China comprised 8% of food imports and 7% of refused imports. Even though it is rare for imports to be refused, when it does occur, it can be very costly for farmers.
As we proceed into the rest of this year, it will be important to monitor U.S. trade relationships with China closely and consider leveraging new partnerships to reduce the weight of this relationship.
3. The conflict in Ukraine: How will U.S. farmers be impacted?
The recent Russian invasion of Ukraine has led to many discussions around spiking input costs and commodity prices for American farmers. While it is difficult to predict exactly what will play out this year, the already fragile agriculture industry will likely experience more volatility due to the impacts of this invasion. In particular, global trade flows are experiencing disruption and inflationary pressures are mounting. Because Russia is a major fertilizer supplier, the price of fertilizer, and therefore the total price of inputs, is expected to increase.
As a major world supplier of staple crops ranging from wheat, corn and sunflower, the prices of these commodities are rising. According to the USDA ERS, Ukraine accounts for 13% of global trade for corn. In terms of production, Ukraine produces 3% of the world's wheat, and Russia produces 11%. Russia and Ukraine account for 7.3% of global wheat and 2.6% of global corn production. Commodity prices are already experiencing an increase, and only time will tell if this upward trajectory will continue well into the year.
Next steps: Diversifying trade relationships and increasing competition
To secure a more competitive edge for U.S. agriculture in the global market, diversifying trade agreements should be prioritized. Less reliance on one trade partner would mean less vulnerability to international market disruption. As experienced over the past year, trade relationships are in a delicate balance and can fluctuate at any time. In order to hedge against risk, securing trade agreements through Trade and Investment Framework Agreements and free trade agreements is an effective way to strengthen the U.S. positioning and ensure U.S. agriculture can continue supplying food for a growing global population while contributing to the U.S. economy.
On a microscale, it will be more important than ever this year for American farmers to keep an eye on international trade relations and legislation that impacts their operations. While these issues are outside of their control, they can adapt their business plans to withstand financial pressures due to the inevitable volatility in the agricultural economy. After all, knowledge is power and it equips you with the power to respond strategically.