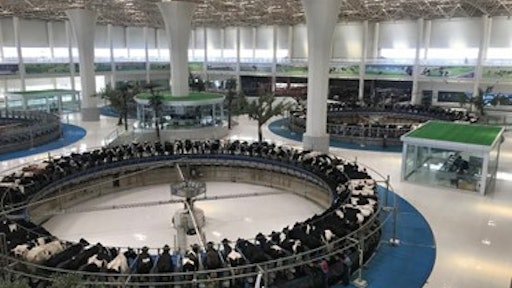 Vision Management Consultants
China's food supply chains are modernizing in ways that are very different from the rest of the world. And, the current digitalization is putting a spin on this process by placing consumers at the center, providing insights into a model that hasn't been tried at this scale anywhere else.
In 2020, China's digital payment transactions were twice as high as in the United States and made up 45% of all digital payments globally. By 2022, McKinsey estimates that a quarter of groceries in China will be sold online. As a comparison, U.S. consumers are increasingly using grocery e-commerce too, but they're still trailing Chinese with estimated online grocery sales at 12% of total by 2022. In China, online retailers are close to achieving their stated aim of shipping any parcel around the country in less than 24 hours.
This is creating a revolution in China's agriculture supply chains.
China has dealt with its share of food safety scandals in the past, but things have improved in a dramatic way
For years, China's food safety scandals have made headlines in the West. In 2008, 300,000 babies got ill with serious kidney issues from eating tainted infant formula. The year before, the same melamine ingredient, a carcinogenic chemical, was found in pet food exported to the United States. Since then, Chinese authorities have shut down thousands of small dairy processors and developed regulations to encourage the creation of large modern dairy farms and processing plants. As a result, larger farms with more than 100 cows now make up two-thirds of the herd and produce more than 70% of the milk, while the Top 3 processors make up 50% of production vs. 25% in the United States – it's arguably the fastest modernization of an agriculture supply chain that the world has ever seen.
The same trend has happened across animal husbandry and grain production. Massive amounts of capital and technology have been invested in pig farms, chicken farms and raw crop mechanization resulting in great improvements in animal health and food safety.
But, China still has a lot of farmers operating very small plots. In 1980, 80% of the population lived in rural areas. By 2020, this share had declined to 37%, but this still represents around 500 million people operating on average a 1.6-acre farming plot. This is particularly obvious in the produce sector where fruit and vegetable farmland is still largely operated by family farms.
Western agriculture modernized over a 100-year period
Faced with a more gradual urbanization trend a 100 years ago, Western nations slowly consolidated supply around larger farming operations.
In the United States, two-thirds of the produce sold are supplied from California, where giant modern farms implement food safety standards with accuracy. In Europe or New Zealand, smaller family farms make up the bulk of farming operations, but they often organize into cooperatives to achieve economies of scale, which also makes quality control more effective.
If urbanization in China stabilizes at around 70% of the population, China will still have 420 million farmers. In that context, supply side consolidation on the model that we experienced in the West will quickly reach its limits.
China's fragmented demand adds a layer of complexity
In contrast to the United States, where five major retail chains control three-quarters of grocery sales, China's main retail players make up less than 5% of total. American retailers have the critical mass to build their own e-commerce platforms to serve their consumers. But. China's retailers have had to rely on third-party digital platforms.
In this context, what is the solution to further modernize Chinese food supply chains?
The answer is, a spiderweb of digital platforms now fiercely competing to bring foods directly to consumers on a scale unheard of.
China's large digital ecosystem are answering the needs of an increasingly concerned consumer
Chinese consumers have been aware of the risks associated with long supply chains for many years. Ten years ago, middle-class parents started to create groups around a neighbor or a class-mom who arranged direct shipments from a trusted farmer a few hours away from the city. Now, digital ecosystems who built a vast infrastructure to serve consumers with a wide range of household products over the past decade have now decided to pivot toward food supply to serve a wider range of products. Everyone seems to be working at it -- meal delivery services with hundreds of millions of buyers now serve groceries or prepare ready-meals in their own central kitchens, and household product distributors are adding fresh foods on their platforms.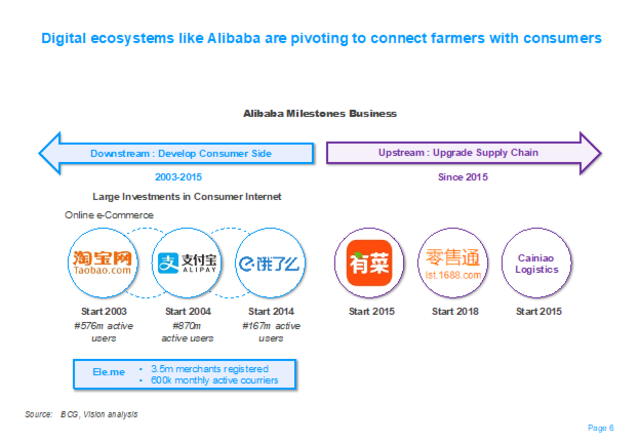 Vision Management Consultants
With many choices available, Chinese consumers are now able to organize online with their neighbors in what's called "Community Purchasing" to group-buy foods. New video streaming services provide consumers and farmers with the tools to interact remotely, re-creating digitally the communication that had existed at the village market.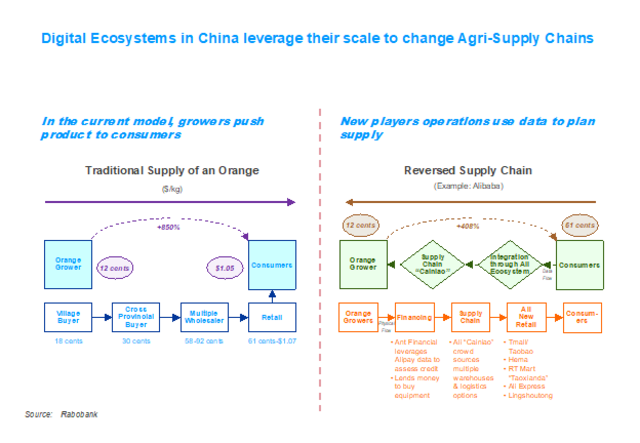 Vision Management Consultants
This tremendous activity has the potential to revolutionize China's food supply chains. Smaller farmers are now able to establish direct relations with consumers, instead of relying on a long chain of intermediaries, creating an opportunity to both increase rural income and awareness around quality and food safety. Live streaming is already re-creating online the vivid interactions that consumers and farmers have been missing. Data can also provide transparency in a fair digital market that sorts out the best from the worst with an endless stream of customer feedback on quality and freshness.
But, the swarm of players competing in the sector is causing many to invest at a loss to gain market share and reach critical mass, losing billions in the meantime, in a race that only the deepest pocketed players can sustain -- a trend that has happened in other sectors already.
Whoever the winner ends up being, the food sector in China is likely to come out transformed with individual farmers able to access a wider range of customers, while communicating with each other to exchange best practices. Chinese shoppers will benefit from increased supply scale, innovations like "Community Group Purchasing" and massive cold chain infrastructures connecting rural remote locations with urban centers, offering Chinese consumers a range of food choices that will revive vintage breeds of pork or local varieties of greens that would otherwise disappear in a Western-style model of supply and demand consolidation.