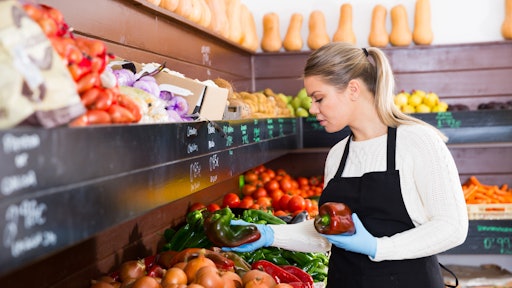 JackF - stock.adobe.com
From enhancing visibility, building resiliency and mitigating risk to leveraging smart technologies and automated software, a digital supply chain means different things to different companies.
Yet, digitization itself presents the same benefits across the board in moving temperature-controlled foods in a safe and efficient manner.
Marina Mayer, Editor-in-Chief of Food Logistics and Supply & Demand Chain Executive, talks exclusively with Alex Haar, chief product officer, Parsyl, about how digital supply chains can have a huge impact in how supply chain partners safeguard quality, minimize food safety issues, and improve sustainability through less food waste.
CLICK HERE to read the article in full.
Food Logistics: What is a digital supply chain? What does it mean for you/the cold food chain?
Alex Haar: A number of different digital technologies have emerged that are improving the ways supply chains operate. "The digital supply chain" simply means using these technologies to manage different aspects of a supply chain, including location tracking, inventory management, temperature monitoring and much, much more.
For cold food chains, investing in a digital supply chain can have a huge impact in how supply chain partners safeguard quality, minimize food safety issues, and improve sustainability through less food waste. It can also result in a higher quality product for consumers at the store.
Food Logistics: Describe some technologies and solutions defining the future of digital supply chains.
Haar: Successfully managing a supply chain first requires companies to understand what's happening in the supply chain. The proliferation of sensors and the digitization of shipment records is generating a considerable amount of data for companies to analyze, while machine learning and AI are giving companies the tools to more easily interpret that data. Rather than playing "whack a mole" with issues that have already occurred, companies are now identifying risks before they turn into issues. Supply chain insights also turn what has traditionally been a blame game between supply chain partners - due to lack of data - into a clear way to drive accountability between partners in a collaborative way. Never before has there been a better opportunity for supply chain partners to work together to improve the cold food chain.
Food Logistics: Where to start? How do companies start the journey toward a more digital supply chain? Outline some good first steps.
Haar: Change is hard, especially in complex supply chains with legacy systems in place. Taking on new tech is only useful if it is both easy to use and can show a quick ROI. We encourage customers to identify their biggest pain point and start there. Are they making frequent insurance claims for temperature sensitive goods? Start with a more modern temperature monitoring solution. Are they concerned about compliance with regulations like HACCP and FSMA 204? There is no "one size fits all" digital supply chain, companies need to start by identifying which problems there are trying to solve and go from there.
Food Logistics: What sectors (i.e., agriculture, frozen foods, etc.) are more impacted/affected by digitalization than others and why?
Haar: Sectors dealing in temperature-sensitive products have the most to gain from digitalization. Suppliers of perishable products are in a race against time, so being able to leverage digital solutions can mean the difference between a high quality product at the store and having to throw away entire loads. Notifications, reporting, and automated reporting enables various players in the supply chain to take quick action and pinpoint areas for improvement. Many times, those changes are easy and affordable to implement once identified; we've had customers save thousands of dollars from simply replacing a malfunctioning cooling unit that had slipped under the radar in their old monitoring system.
CLICK HERE to read the "Breaking Down the Digital Supply Chain" article in full.
Food Logistics: From food production to the retail and/or foodservice outlet, how does a digital supply chain transform the way food is moved from Point A to Point B? This could also entail fleet, warehousing etc.
Haar: Ultimately all supply chain stakeholders have the same goal - to move product safely and efficiently from its source to its final destination. Digitization is revolutionary in how it enables partners to more seamlessly work together towards this end goal. A digital solution that follows products from the first mile to the last means there is an objective source of truth, even as the product changes hands.
Food Logistics: Describe some other trends and challenges with regards to digital supply chains.
Haar: When looking into digital supply chains, one potential pitfall is using tools that operate in a data silo, where the data is effectively trapped within that single solution. No digital supply chain solution solves all problems, so finding a solution that interoperates easily with other products is critical. For example, companies who have a traceability solution that helps them comply with food safety laws will want to share their traceability data across other systems as well, such as their temperature monitoring solution and their ERP. Now more than ever it is critical that digital solutions play well with others.
Food Logistics: What are some things not addressed above that may be pertinent to our readers?
Haar: Remember, it's not just about technology—it's about your team's ability to take action based on what the data says and make proactive decisions. Teams will need to balance a robust feature set with ease of use, ability to customize, and the ability to customize to their organization's unique needs.
A digital supply chain also presents a huge opportunity for sustainability efforts. Having access to more detailed information about cooling equipment and product quality not only helps to reduce waste, it helps uncover ways to make cooling equipment more efficient as well. For example, coolers may be operating at a slightly cooler temperature than is necessary. A slight adjustment in the set point would then keep products at their required temperature while generating significant savings in energy costs.
CLICK HERE to read the article in full.