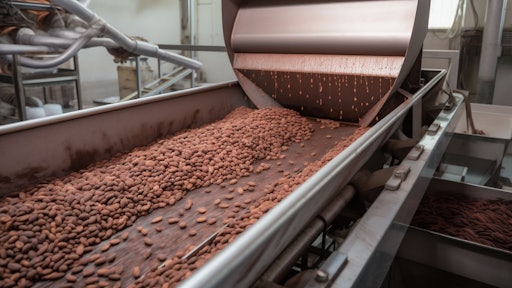 VICHIZH AdobeStock_597675356
The price of sugar has risen by almost 34% from August 2022 to August 2023. The price of cocoa has risen 53% during the same period. These key commodities are crucial to the production of confectionary goods and other sweet treats. For example, sugar makes up an estimated 7% of the total raw material cost in a chocolate muffin, with cocoa's cost share around 20%. Therefore, a rise in the input costs of food products results in higher prices for confectionary items, including candy and baked goods for consumers.
Rapidly rising sugar costs
Over the past year, there has been a remarkable surge in sugar prices attributed to dwindling global supply, mostly due to reduced production from leading sugar producers India, Thailand, and Brazil. This substantial price uptick has been dubbed "sugarflation." A catalyst for "sugarflation" is the El Niño weather phenomenon, which officially began in June. El Niño has resulted in prolonged dry spells across Asia, West Africa, and Australia, accompanied by heavy rainfall in Brazil, parts of the United States, and Mexico, adversely impacting various agricultural commodities, sugar included.
India faced its driest August in 122 years, with a staggering 50% year-over-year rainfall decline in Maharashtra and Karnataka, which are key sugar-producing states. These regions jointly contribute about 50% of India's sugar output, with Maharashtra anticipating a 14% sugar output decline for the 2023-24 marketing year (MY). In Thailand, the 2023-24 sugar production is projected to plummet by 18% year-over-year due to arid conditions. Meanwhile, Brazil's sugarcane has suffered from reduced sugar content due to excessive rains during the crop development phase.
As a result, sugar prices are poised to continue their upward trajectory amid concerns of a global sugar market shortfall, with India and Thailand possibly facing severe drought and a 10-15 % drop in global sugarcane production. Brazil's heavy rainfall, on the other hand, is expected to delay the sugarcane harvest. Therefore, it's predicted that there will be roughly a 2 million metric ton deficit in the global sugar market for the 2023-24 MY, marking the second year in a row of supply shortages.
Record-high cocoa prices
In July, New York cocoa prices hit their highest point in over 12 years and in the UK, prices hit a 45-year high. This worldwide price surge can be chiefly attributed to tight cocoa supplies and diminished production in Ghana and Ivory Coast, two leading cocoa producers. The reduced cocoa yields are a consequence of abundant rainfall in parts of West Africa during the summer months, fostering the spread of both the black pod disease and the swollen shoot virus in Ghana and Ivory Coast. These disease outbreaks have adversely impacted crop quality and production, with approximately 20% of cocoa crops infected by the swollen shoot virus, according to the Tropical Research Services. Consequently, Ghana's cocoa harvest is anticipated to decline for the 2023-24 MY.
Moreover, heavy rainfall has resulted in logistical challenges, obstructing roads and impeding goods' transportation to ports in the region. As a result, cocoa arrivals at Ivory Coast ports fell by 2.9% year-over-year from October 2022 to July 30. Cocoa prices are expected to remain firm in the coming months, with the potential for further increases, given the insufficient supply of cocoa beans in West Africa due to persistent wet weather patterns and disease outbreaks, coupled with concerns regarding the impact of El Niño. The weather phenomenon is likely to bring about hot and dry conditions in West Africa, further diminishing cocoa output.
The demand for cocoa during Halloween and the holiday season may also exert upward pressure on cocoa prices, ensuring elevated prices for the remainder of the calendar year.
Mitigating disruption for food producers
In response to the challenges posed by "sugarflation" and soaring cocoa prices, food manufacturers have begun shifting the burden of increased commodity input costs onto consumers. However, for a solution that minimally impacts consumer prices, food manufacturers should adopt a multifaceted strategy to address export and production limitations. This involves actively assessing a variety of suppliers and supporting essential vendors. Identifying suppliers across different regions allows consumer packaged goods (CPG) firms to reduce their reliance on singular providers and geographic regions.
It is also imperative for organizations to monitor evolving adverse weather events and disease outbreaks. For instance, with El Niño, companies should closely track its development and consistently evaluate the potential repercussions it may have on crucial territories and suppliers. An innovative approach some food producers have employed to combat rising ingredient costs is reducing the use of commodities in their products. For example, businesses are actively developing technologies to decrease sugar content in foods. Some companies have introduced a sugar reduction technology that can reduce intrinsic sugar in fruit juice, malt, and milk products by up to 30% through an enzymatic process. This approach enables CPG companies to avoid raising product prices for end-consumers to offset rising input costs.
As a consequence of supply constraints, sugar and cocoa prices are poised to remain elevated in the short to medium term. Furthermore, these price increases may continue for an extended duration, especially if the El Niño weather phenomenon persists. This scenario could result in continued high confectionery costs beyond Halloween and the rest of the holiday season.