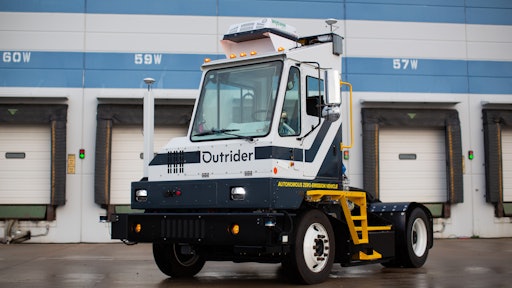 Outrider
When 2021 hit, the world was ready for the New Year. Even if it brought with it a New Normal -- new way of doing business, a new way to shop for groceries and more -- the turning of the calendar meant putting a year of supply chain disruptions, restaurant closures and constant pivoting behind us.
But, then, on March 23, a stranded Evergreen container ship blocked navigation in Egypt's Suez Canal, setting the stage for what would be a slew of supply chain disruptions after supply chain disruptions.
Suddenly, 2021 was quickly becoming a mirrored reflection of the year prior.
Then came the ransomware attacks, internet outages, container ships stuck at bay, bridge closures, driver shortages, ingredient shortages, natural disasters and more.
The hits just kept on hitting.
And, industry experts are already showing signs of struggle for 2022 into 2023, as routes to import/export remain clogged, ports continue to be backed up, cost of doing business increases and the labor shortage exists.
That's because supply chains are messy. And, they're only going to get worse before they get better.
In Food Logistics' Nov/Dec 2021 issue, editor-in-chief Marina Mayer talks with several industry experts about the state of the supply chain and what's in store for 2022.
Here's an interview with Kyle Bertin, head of customer strategy and planning for Outrider, explains why supply chain visibility on its own is not enough, that breaking down siloes is necessary in making sure the visibility works, with excerpts publishing in Food Logistics' Nov/Dec 2021 issue. [CLICK HERE to read the article in full].
Food Logistics: 2021 started off with supply chain disruption after supply chain disruption. From the Suez Canal blockage and natural disasters to ransomware attacks and an industry-wide labor shortage, the supply chain industry is having to prove its resiliency over and over again. Looking into 2022, what does the state of the supply chain look like?
Kyle Bertin: There is no indication that the state of the supply chain will improve in 2022. In fact, with the increased demands of the holiday season, explosive growth in e-commerce, customer expectations for fast shipping and continued uncertainty around COVID, it is almost certainly going to get worse before it gets better. Organizations that start making big changes now - embracing digitization, automation and more sustainable technology - will come out ahead in the coming years.
Food Logistics: The cold food chain continues to face a host of risk/security challenges. What can companies be doing now to adapt for the future?
Bertin: Enterprises must start investing in automation to mitigate risk factors within the distribution yard, such as efficiency, cost and food safety. They must also increase visibility into the supply chain and enable companies to easily share information with partners and suppliers. All too often, supply chain managers are working with incorrect or outdated data, meaning they do not know the exact location of each trailer, container or truck, much less where they need to be. Organizations need to consider autonomous technology, which will allow yard management systems to identify every equipment detail, including location, status and required action. This will help mitigate those risks while creating a more efficient system, allowing consumers to receive their products on time and increasingly faster.
Food Logistics: In terms of transportation, what are some of the trends you're seeing for 2022? How do emerging technologies like blockchain, Internet of Things, cloud-based, etc. play a role in the evolution of transportation in the cold food chain?
Bertin: The pandemic put unprecedented pressure on supply chains that move goods around the world. It tested the resilience of our supply chain and shined a spotlight on its weakest links. As we head into 2022, it's clear that supply chain professionals are continuing to test emerging technologies to ensure resilience in their cold food supply chains.
Supply chain visibility technologies are specifically seeing huge investment, advanced capabilities and consolidation. New players and technologies will continue to enter the market, progressing from visibility to decision making. Given the rise of complexity in supply chains, it is no longer enough to know where your freight is. It will be increasingly important to automate the decision-making processes that better visibility enables. As a result, automating routine decision making will free up humans to work on more strategic and customer-focused issues.
IoT will also continue to play a crucial role, particularly in food supply chains. Perishable freight increases the stakes for understanding the state of goods throughout the supply chain. IoT enables more robust quality assurance and tracking, especially when things go wrong.
Finally, one of the largest problems to be solved remains the labor shortage. While the shortage of truck drivers has been widely reported, there is an even larger shortage of staff within warehouses and distribution centers. In 2022, supply chain managers will look to new marketplace models and automation to help address this shortage.
Food Logistics: Let's talk supply chain visibility. What is your company – or what should companies – be doing to improve their own supply chain visibility?
Bertin: Supply chain visibility is a key component of what companies, like Outrider, are working to accomplish. The distribution yard has largely been left behind when it comes to technological investment, meaning little has changed over the last few decades. Many tasks in the yard are still done manually, leaving too much room for human error, or in other words "dirty data."
Implementing autonomous technology within the yard will provide accurate updates of the status of equipment at every stage, resulting in 100% "clean data" with much better visibility. However, visibility on its own isn't simply enough. It's also important to ensure that visibility isn't siloed. It's not very good, for instance, if you have great visibility to the state of your yard and your warehouse, but not enable that data to be exchanged easily. Clean data, integrated within the supply chain is essential to achieve maximum efficiency and visibility - ultimately getting equipment, drivers and products on the road faster.
Food Logistics: The labor shortage is a real thing, and it's impacting several facets of the supply chain. What is your company – or what should companies – be doing to hire, onboard and retain good quality supply chain workers. 
Bertin: Since Day 1, Outrider has made it a priority to work with companies committed to phasing in autonomy responsibly. It's difficult to keep jobs filled in the yard specifically because the work can be dull, dirty and dangerous. Outrider and its customers are working to create a safe environment where people want to work. In addition to taking people out of harm's way, autonomous systems offer new opportunities for workers to follow a career path that involves the deployment, maintenance, monitoring and optimization of these systems. By reimagining yard operations, distributors can reallocate their workforce to higher-value areas of the supply chain.
Food Logistics: The COVID-19 pandemic put extra emphasis on food safety and worker safety. What is the state of food safety and worker safety going into the New Year?
Bertin: Food safety has always been of the utmost importance. In fact, many companies, including all of Outrider's customers, have incredibly robust protocols for ensuring food safety and quality throughout their supply chains. However, as a result of the pandemic, the bar will continue to be raised higher. Aspects like vaccination mandates/incentives, robust tracking via IoT and visibility software of food in-transit and new worker safety technology (i.e.  robust site access technology, temperature scanning, vision software to ensure compliance with site safety and distancing criteria, etc.) will continue to be priorities.
Food Logistics: When it comes to grocery retail shopping and/or food service establishments, what are some trends you see sticking around post-pandemic, and which ways of doing business will somewhat go away?
Bertin: As we look to the upcoming year, I expect two main trends to stick around:
-         E-commerce options for retail grocery. As the world shut down, E-commerce surged, resulting in many benefits for all industries, but especially for grocery retail. Although many shoppers are returning to the store, consumers will continue to demand the convenience and safety of grocery e-commerce.
-          Shared kitchens and online only delivery options. The rise of "ghost kitchens" has enabled restaurants to reposition themselves for delivery instead of dine-in. This has also enabled food service providers to share costly real-estate and capital equipment, something that is critical in this environment.
Logistics leaders look to the future of the supply chain, there are a couple of business approaches that will become that of the past. These include:
-          Inflexible or fragile supply chains. Relying on single-source providers and/or having key bottlenecks in the supply chain has been shown to be a devastating strategy over the past 18-plus months. Agility and flexibility will be the name of the game moving forward.
-          Not embracing e-commerce/new models of serving customers. In many cases, food retail and logistics will be changed forever by the pandemic. Participants in this ecosystem should not expect a "return to normal," but instead should be positioning themselves for the new reality of e-commerce.
Finally, trends we should monitor include the rise of instant delivery and micro fulfillment. Companies in the U.S. (and many more abroad) are beginning to generate enormous revenues by delivery of grocery in 30 minutes or less. This relies on a very different supply chain design and fulfillment strategy that requires existing retailers and distributors to re-evaluate their current network designs and strategies to either compete or partner with these new entrants.
 [CLICK HERE to read the article in full].