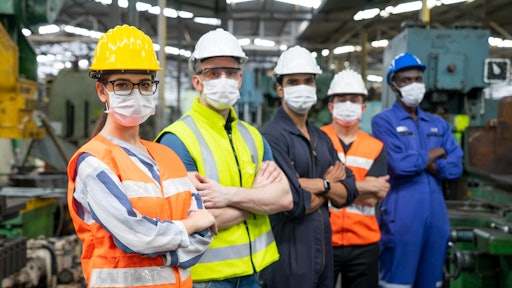 godji10 - Adobe Stock
Making a sale shouldn't be the end of the customer journey, it should be the beginning.
Transactional business practices just don't cut it anymore for any industry, and never has that been more apparent than during the Coronavirus disease (COVID-19). The pandemic highlighted the need to flip the script for clients and customers. The focus had to change from sales to support in order to keep businesses afloat.
The food and beverage industry was severely disrupted during the pandemic, for some, it halted everything. But, together we made it through. Not because you bought the right product or were sold the right solution, but because we listened to each other's needs, stepped in and stepped up to help everyone not only get through this unprecedented experience, but also rise above it to emerge better than before.
How did this happen? It happened because of a renewed commitment to corporate social responsibility -- a new commitment to build a culture of care for customers.
Building a culture of care for customers
During COVID-19, we heard a lot about companies recognizing the serious toll the pandemic took on the mental and emotional wellbeing of employees. Many took action through the creation of new protocols and resources to provide the necessary support. Employees were seen as more than just a worker; they were people, some like family, going through trauma. That had to be addressed and many companies answered this important call.
But, what about recognizing and supporting the toll on customers? Customers and clients do not simply exist to pay us. They offer the opportunity to forge more profound relationships beyond the transaction, especially during a crisis like COVID-19. And, especially buyers and suppliers in the food and beverage industry.
COVID-19's impact on the food industry
As restaurants and bars were forced to shut their doors and then limit capacity, suppliers were left with products that had nowhere to go. Grocery stores were running out of supplies as shoppers started panic-buying. The crisis created chaos in the supply chain, but organizations were able to step up and help those in need by innovating new ways to put their products and solutions to use.
Restaurants. During COVID-19, restaurants were forced to pivot fast. Despite their own challenges to stay open, many owners stepped up and turned their restaurant into community kitchens, helping to feed everyone from first responders to families facing economic hardships. And, even those who knew their business would not survive made sure to share what they did have despite that fact.
As of March, just over 10% of restaurants in the United States have closed permanently since the pandemic hit.
Grocers. As restaurants were forced to close down, grocery stores became essential businesses for families. In 2020, owners added extra store hours, special store hours for seniors and adapted to technology that allowed for online ordering, deliveries and touchless in-store payment opportunities. Retailers also became the sites for drive-thru COVID-19 testing, and in 2021, vaccinations ensuring the safety of their employees and customers alike.
Technology. Technology could be a powerful ally in times of crisis, helping companies in the food and beverage supply chain navigate uncertainty.
What do you have to offer?
In these new times, it's important to realize that it's not just about making the sale anymore -- it's about making connections. To achieve that, you have to build a culture of care in which the wellbeing of your customers, and potential customers, is the priority.
How can you create this culture of care? First, make time and space to listen to and understand the challenges they face. Second, take those challenges and look at the products and solutions you offer. Ask yourself, is there a better way to use these products? Could they help others we didn't originally plan for? Can they benefit more customers if you provide it for a lower price, or provide free access?
You can't only focus on the bottom line -- you have to look at the whole picture. Take care of customers and the industry, and the financial reward will follow. But, truly put your customers first.
Still not convinced a culture of care is good for your business? Then, think about this, what is it that drives you to continue to go to the same doctor, the same grocery store and the same restaurant? Is it the transaction or how they make you feel?