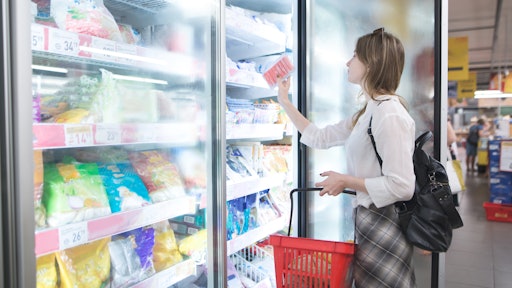 bodnarphoto - Adobe Stock
While grocery has never been the most technologically advanced retail industry, it was far from ever being in the stone age. For decades, the food and beverage industry has created and used innovative technology, including supply chain logistics, point-of-sale systems and consumer loyalty programs. However, one space in which grocery has very much lagged is e-commerce. This makes sense, as the grocery supply chain is fragile, the digital demand for grocery shopping just simply didn't raise reason for urgency. Going in store to buy groceries was very much the status quo, and shoppers didn't seem to mind it. In fact, they seemed to enjoy going in store to buy their food. Adoption for online ordering and delivery remained relatively low for years while other industries developed e-commerce.
That is, until the Coronavirus disease (COVID-19). According to McKinsey, the pandemic propelled online grocery shopping adoption 10 years into the future in the space of three months. Grocery retailers had to quickly pivot to focus on, or even just to begin offering, online ordering. Especially at the beginning of the pandemic, not only were previous users increasing their frequency of online ordering, but many consumers became first-time users as well.
For grocery retailers who were ready, this abrupt transformation was a welcome change. Those who invested early and substantially in buy-online/pick-up-in-store (BOPIS), curbside delivery or fulfilling orders using their physical store footprints have been having great success throughout the pandemic.
While grocery stores are seeing great benefits from this digital adoption, research shows that consumers like these modern options as well and will likely continue to use them for the foreseeable future. A Bazaarvoice e-book shows that 83% of consumers who have tried new shopping models (i.e. subscription service) or brands during the pandemic intend to continue purchasing from that subscription service or brand going forward. McKinsey data backs this up on a global basis, with 70-90% of citizens in most countries intending to continue their new shopping behaviors. Seeing as how we are still in the midst of the pandemic and likely will continue to be for some time, these behaviors are no longer part of the "new normal," but are very much just "normal." Going forward, consumers are more likely to seek out and prefer grocery retailers who have adopted this approach.
The growth of online ordering in the grocery industry isn't just changing how people shop; it's changing how grocery stores look and are physically laid out as well. Larger retailers have already begun redesigning their store floor plans to enable them to function as both fulfillment centers for associates and stores for consumers, who now are picking items side-by-side. Some stores are becoming smaller as more space is dedicated to online fulfillment, which is restricting the number of products accessible to those shopping in-store. This encourages shoppers to go online because there is now an increase in the number of products that can only be acquired through online ordering and online discovery. When those shoppers consider their purchases outside of the store, the quality and variety of user-generated content, such as ratings and reviews, questions and answers and photos and videos can make-or-break a purchase decision, which is why some retailers and brands push for a greater quantity and quality of content.
Because shoppers are embracing these methods of shopping such as BOPIS, modern omnichannel grocery shopping is already becoming cornerstone to what retail is going to look like post-pandemic. Now that consumers are making the move to buy the majority of their purchases online, they are looking to physical stores to provide a better shopping experience, and companies are adapting.
As shoppers now have the option to shop online, brick-and-mortar grocery shopping is going to need to be incentivized like never before. In the next few years shoppers can likely look forward to innovative in-store technology and services unseen elsewhere. Stores are already working on digital shelf technology that provides real-time information on products, such as customer ratings and reviews, cost history, promotions, and personalized recommendations. If you already have your grocery store's app for things such as discounts and coupons, it likely will soon start giving you mobile notifications and prompts when you're in the aisles of your usually shopped items, helping you to make purchase decisions quicker and easier.
The same old store you likely visited weekly, in-person, that hadn't changed very much since you were a child, may soon become one of the most technologically-advanced grocery shops you enter. Grocery retailers who modernize quickly and prepare accordingly for the change in consumer shopping needs and behaviors will be poised for success going forward.