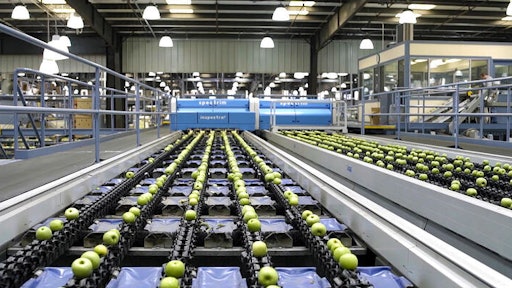 TOMRA Food
TOMRA Food's newly introduced SmartGrade food safety software puts the produce packhouse in complete control of grading.
SmartGrade identifies each blemish and defect type and maintains consistent grading performance.
"The advantage is that you can look for different things on each pass, rather than having to bundle them together," says Kurt Bagby, research and grading team lead, R&D at TOMRA Fresh Food, part of TOMRA Food. "This is very useful when defects occur together or on top of each other. It allows you to get very granular in your grading."
SmartGrade automizes the grading around each defect of interest, without compromises, and helps requires fewer people on the line for manual grading due to its ability to maintain high accuracy with high variability in incoming fruit batches.
From TOMRA Food
 SmartGrade allows users to grade consistently with high accuracy, challenging defects like open sutures and subtle browning from wind scarring.