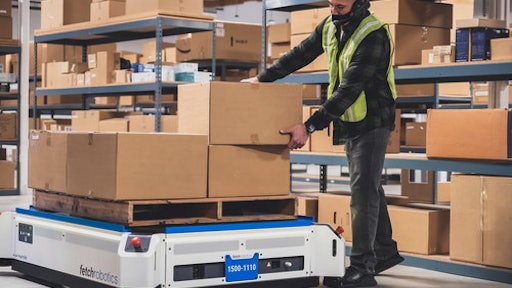 Lucas Systems/Fetch Robotics
Lucas Systems and Fetch Robotics work together for better human and robotic collaboration, making the warehouse truly optimized. Lucas will provide solutions that help warehouse employees interact with Fetch autonomous mobile robots (AMRs) in the most efficient way.
Per PR Newswire:
Fulfillment and distribution centers are under tremendous pressure due to growth in e-commerce combined with a shrinking labor market. Lucas executives say its clients need help increasing throughput and maintaining high worker productivity while meeting accuracy and more stringent customer delivery requirements. These market pressures have led to rethinking old models and focusing on new, innovative ways to improve DC performance.
The combined solutions from Fetch and Lucas will materially redistribute the division of labor in the warehouse. Robots will manage tasks best suited for machines, and this will free up warehouse workers to focus on higher-valued work. In an AMR-supported picking workflow orchestrated by Lucas, for example, a worker can avoid a lot of unnecessary walking by picking items to a tote on a Fetch AMR, directing the AMR to a conveyor system to unload, and then triggering another robot to move into place for the worker to continue picking.