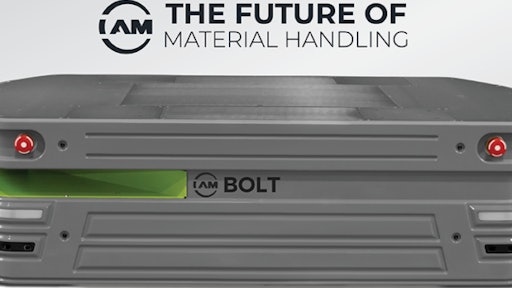 IAM Robotics
IAM Robotics introduced Bolt, an autonomous mobile robot (AMR) that's completely autonomous, operates for up to 20 hours on a single charge and is compatible with conveyor and material handling systems.
"When we built our AMR, we thought, 'How can we make this the most powerful, flexible and collaborative solution?' The result is Bolt, which expands on our AMMR, Swift, by turning its base into a standalone AMR. We applied what we learned with Swift, honing in on battery power and direct-drive wheels to ensure Bolt has the power to operate safely and efficiently—even with top modules attached," says Tom Galuzzo, founder and CEO. "Bolt is already opening new doors for IAM Robotics, and it introduces us to a faster-growing market with general AMRs, which is so exciting to be part of."
From IAM Robotics:
Bolt features hot-swappable battery 3.5 times the size of similar AMRs, 660-pound payload capacity, a 360-degree field of vision for warehouse safety and is flexible with various top modules.
IAM Robotics formed strategic partnerships to make Bolt work to its full potential.