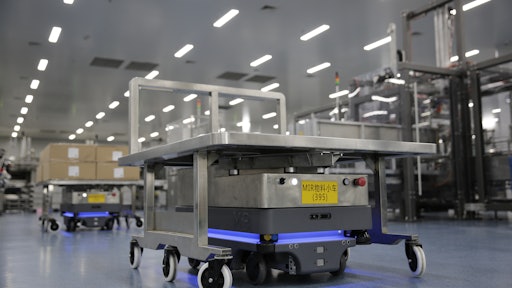 Mobile Industrial Robots (MiR)
Consumer product goods (CPG) companies are increasingly automating material handling and other warehousing processes by deploying flexible, adaptable and safe autonomous mobile robots (AMRs). According to a recent survey conducted by Mobile Industrial Robots (MiR), by 2024, 79% of these companies plan to use AMRs to optimize internal material handling. That's because it's become evident that AMRs benefit the full value chain of the CPG production line with built-in sensors, cameras and intelligent software to navigate efficiently and safely around workers and equipment, even in areas unavailable to other technologies like fork trucks and automated guided vehicles (AGVs).
As CPGs see shortened lead times, reduced bottlenecks and improved workplace safety from even one single robot deployment in one workflow, they're evaluating their initial investment for the potential to roll out fleets of robots across multiple sites and myriad workflows.
Let's focus on three workflows proving most successful at meeting CPG company objectives for deploying AMRs today:
Inbound/outbound components delivery to production. CPG components are stored in intermediary storage warehouses or other preparation areas before moving to production facilities. Traditionally, fork trucks or AGVs, which move along a set path with infrastructure such as magnetic tape or more recently, laser-based navigation, have been used to transport the components. Either due to significant risks of injury and lack of space to navigate for AGVs, many companies have been looking to limit their use and find safer, more agile alternatives for repetitive and "last meter transport." AMRs with integrated pallet lifts or specifically designed cart solutions can autonomously transport pallets or low-volume consumables to the production line and are a safer alternative to AGVs or manual tuggers. This is especially true as they travel through populated areas and dynamic environments where people, stacks of goods and other equipment must be safely navigated.
In addition to enabling the company to relocate their employees for more value-added tasks, AMRs actually help them increase throughput by reducing changeover cycle between production of different stock keeping units (SKUs).
For example, companies have myriad primary and secondary packaging components for each production run. This is due to the increased customization needs driven by consumer or retailer demands, as well as global trends like sustainability. The majority of these components will not be re-used in the next batch, and as a result, need to be replaced for the production of new SKUs. Automating the movement of these components, either on the pallets or in bins, have long been a challenge due to typically small spaces and highly populated environments. However, with the emergence of these more agile and collaborative AMR solutions that can work around the clock, CPG supply chains are moving toward becoming "lights off" factories of the future as many have long envisioned.
Some especially innovative CPG companies are already deploying fleets of AMRs—a mix of both high and low payload versions—to deliver different components on the pallets or carts to the production line and remove unused components from previous production runs. Deploying AMRs for this application can benefit multiple production lines simultaneously, resulting in substantial productivity gains and cost savings, whether in capacity or human-worker hours.
Quality sample handling during production runs. Traceability is critical, especially in the food industry, as the FDA requires most food manufacturers to follow the movement of food products and their ingredients through all steps in the supply chain. Continuously improving the quality process among retailers puts additional pressure on the traceability demands of manufactures on both their own brands as well as private label brands. Again, due to external consumer and market trends, likely exacerbated by the Coronavirus disease (COVID-19) pandemic, the amount and frequency of quality sample retention from production is exploding. As a result, engineering teams are using collaborative robots technologies like robotic arms (cobots) for "pick and place" and AMRs to handle the workload. Companies are even using AMRs alone to shuttle samples from between the lines to storage or using AMRs with cobots installed on top to pick samples straight from the live production line and take them to storage or labs for analysis.
Integrating AMRs into end-of-line palletizing solutions. As CPG companies continue to realize the benefits of using AMRs in their production/packing halls, they continue to look for ways to further expand their AMR footprint. Naturally, the focus falls on expanding pallet movement applications from delivering components to transporting finished goods to end-of-line (EOL)/ warehouses.
Space and human activity continue to be a challenge at the palletizer. To solve this problem, some companies have deployed AGVs with the magnetic strips or laser-based navigation, but in both cases, those require significant investments to establish and change infrastructure.
AMRs with open-source capabilities are an ideal alternative, as they can easily integrate into modern palletizing systems. AMRs offer considerable savings over AGVs for this workflow. The robots themselves are less expensive; they do not require infrastructure built into the facility floor; and consequently, they can be quickly—and easily—programmed and deployed. As a result, integrating AMRs into palletizers is on the rise. Not only are companies integrating AMR into existing palletizer installations, but they are working with palletizing systems manufacturers to bring turnkey solutions from the onset. Many palletizing and material handling companies see AMR as "game changers" for their businesses, drafting plans to phase out their conveyer systems and replace them with AMR for pallet transfer. This engagement from other players in the ecosystem is expected to accelerate the use case of AMRs in CPG and other industries.
Expect to see more CPG companies, especially within the food industry, deploy AMRs for these three workflows, and expand them to other workflows across multiple facilities as they continue to realize the tremendous value they bring to the entire production line.