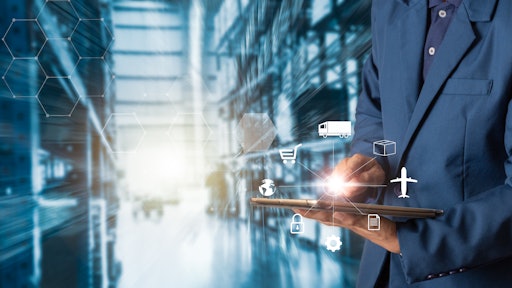 Getty Images
From enhancing visibility, building resiliency and mitigating risk to leveraging smart technologies and automated software, a digital supply chain means different things to different companies.
Yet, digitization itself presents the same benefits across the board in moving temperature-controlled foods in a safe and efficient manner.
Marina Mayer, Editor-in-Chief of Food Logistics and Supply & Demand Chain Executive, talks exclusively with Christian Nixel, senior director of technology, enVista Corp., who outlines the huge potential for robotics and material handling equipment to automate many of today's supply chains.
CLICK HERE to read the article in full.
Food Logistics: What is a digital supply chain? What does it mean for you/the cold food chain?
Christian Nixel: To me, a digital supply chain is how supply chain leaders leverage technology and systems to work their processes. Warehouse processes used to be very manual and physical. Today, thanks to digitization of the supply chain, warehouses are operated by multiple software and technology systems, such as warehouse management systems (WMS), material handling equipment (MHE) and automation, order management systems, enterprise resource planning systems, transportation management systems (TMS) and more. All of these systems are able to be interconnected across the end-to-end supply chain. What's very interesting to me is how one process, like a carton diverting off of a conveyor into a trailer, is enabled by several different pieces of technology. Several chain reactions take place to enable that diversion and each of the steps after it, all of which are happening within a matter of seconds thanks to technology. It also enables the customer to be notified via some kind of digital notification that their order is on the way. This kind of visibility is an everyday reality today, but would have been unheard of decades ago before the digital supply chain really took off.
More specifically, the digital supply chain has made great strides in the cold food chain by automating many manual processes. For example, working in a restaurant and receiving food used to require greater labor undertaking, with unloading the product and manually tracking product identification numbers and temperatures. Accuracy and quality assurance were also of greater concern with human error being more prevalent in keeping product at the right temperature. Today, the digital supply chain has automated many of these processes, allowing these restaurants or other points of use and consumption the ability to track their goods through the supply chain, monitor their status, be prepared to receive them and have a more simple method of validating quality and capturing details at receipt. This has exponentially increased the efficiency of cold chain warehousing facilities.
Food Logistics: Describe some technologies and solutions defining the future of digital supply chains.
Nixel: In my experience, food production and manufacturing clients are increasingly requiring technology for their warehouses that goes beyond the warehouse management system (WMS) and in some cases the warehouse execution system (WES). Many are venturing into a combined WMS/WES, as well as manufacturing execution systems (MES) to provide visibility into item location and quantity throughout the manufacturing process, which they do not receive with just the MES. There is also a lot of opportunity for robotics and MHE to increase the effectiveness, efficiency and timeliness of the movement of goods in the warehouse. There are a lot of changing variables when moving product in a cold chain environment, and I see huge potential for automation to improve that process and take some of the load off of a facility's associates.
Food Logistics: Where to start? How do companies start the journey toward a more digital supply chain? Outline some good first steps.
Nixel: A great example of this is a client I once had that was moving from a 100% manual facility to a digitized facility. The first step in this case is typically completing an assessment of current state limitations and opportunities for growth within the company's facility. Most often, the first step in moving toward digitization is a simple solution. Especially when a facility is beginning at such a manual level, a tier-one WMS is not necessary in the beginning in order to see payback. Something as simple as a tier-two or three WMS that can help with tasking and item tracking and slotting is a great first step that will have high rewards in the warehouse. Once this is in place, then you can start looking into automating more complex tasks and processes. It is really beneficial for companies just starting out to leverage technology that has capability to scale up in the future, that way they can start small and continue to grow in their automation capabilities as the organization becomes ready.
CLICK HERE to read the "Breaking Down the Digital Supply Chain" article in full.
Food Logistics: What sectors (i.e., agriculture, frozen foods, etc.) are more impacted by digitalization than others and why?
Nixel: Digitization's impact is based less on what sector an organization falls into and more on what complexities exist in an organization's supply chain that require human intervention. The higher level of human intervention that is required within a supply chain, the more that supply chain would ultimately benefit from digitization. Within every sector is a very wide range of complexity. For example, an ice company may fall into the same sector as a frozen meals manufacturer, however the ice company will have significantly less complexity since it only manufactures ice, while the frozen meals manufacturer may be processing dozens to hundreds of different types of meals. In this case, although they fall into the same sector, the frozen meals manufacturer would likely be more impacted by the digitization of its supply chain processes.
Food Logistics: From food production to the retail and/or foodservice outlet, how does a digital supply chain transform the way food is moved from Point A to Point B? This could also entail fleet, warehousing etc.
Nixel: The biggest goal here is that product leaves the facility in the best state possible and maintains that quality throughout entire transportation process. A TMS can optimize travel time to help achieve this goal with route optimization, appointment scheduling, advance notice and other features, and these inputs are embedded into the warehouse. Planning on the receiving end will ensure there is space in the warehouse for incoming product to ensure the most optimal handling on temperature-controlled product. The WMS and TMS really work together in this scenario to ensure quality control throughout the entire process of getting a product from Points A to B.
Food Logistics: Describe some other trends and challenges with regards to digital supply chains.
Nixel: Every day there is a new challenge as digital supply chains grow and become more complex, but integration of multiple systems is among the most prevalent I am currently seeing. With so many available systems and an ever-expanding technology field, more integration frameworks are becoming necessary to enable multiple systems in the same supply chain to communicate with each other when moving product through every process. It is becoming more common to add an interface layer that can act as the communicator between any two systems. This is a really effective way to reduce the complexity involved in maintaining integration even in the most complex technology environments.
Food Logistics: What are some things not addressed above that may be pertinent to our readers?
Nixel: As digital supply chains become more complex, we're starting to see systems function at higher levels than they were traditionally designed for. Many systems are branching out into more and more functionality to be able to provide more value to each customer. A really good example of this is the warehouse execution system (WES), which is a hybrid between the warehouse management system (WMS) and the warehouse control system (WCS). The WMS and WCS used to be completely separate systems that both served their own necessary functions. Now, the WES increases the flexibility of the WMS and WCS, creating less of a dichotomy between the two when designing an operation or flow.
CLICK HERE to read the article in full.