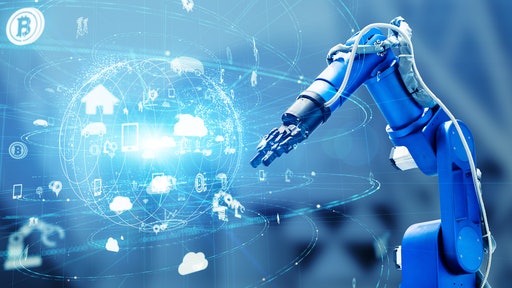 Getty Images
Faced with packaging costs that account for more than 40% of production expenses and costly compliance with food safety regulations, food and beverage manufacturers and distributors place an ever-increasing reliance on automation. Instead of mix-and-match combinations of solutions, these companies want turnkey functionality from a single source, automation with the flexibility to adapt to rapidly changing tasks, challenging packaging materials, shrinking product cycles and working conditions that can range from highly hygienic to hostilely cold.
On the line, robots literally handle everything from soup to nuts, including loaves of bread, individual candies, beef, pork and cheeses. All robots that handle foods must operate in hygienic environments and withstand regular washdowns and sanitizing procedures. The real challenge for these middle-of-the-line robots, however, is to pick and pack at high speed, moving unstructured items such as individual candies from one conveyor belt to another and organizing them for proper insertion into outer packaging.
Furthermore, these robots handle items that pop up in random orientations, which demands a vision system to survey the conveyor and locate the items correctly. Vision systems rely on strategically placed cameras to provide a constant data feed that automation software decodes and implements to command robot action.
Near and at the end-of-the-line, robot end effectors must adapt to the complications of packaging materials ranging from glass and metal to paper, thin mylar or woven fabric bags. At the pack-and-palletize stages, for example, bagged products add complexity because their contents move around, whereas robots can grasp boxed products easily with a vacuum attachment. Properly implemented palletizing automation can increase productivity by up to 20% over the labor-intensive repeated motions required of human workers.
At a production facility or in a distribution warehouse, palletizing presents numerous challenges. Many items require stretch wrap, but although the flimsy material – which often includes holes – can be difficult to pick up, robots use vacuum attachments successfully. Heavy bagged items, such as rice and other grains, require a gripper that grabs the outside of the bag with tines and holds the top of the bag in place with a cylinder so it can stack the package on a pallet in the desired pattern. To stabilize palletized bags, automation software programs the robot to build a pyramid of packages, spread out on the bottom layers and placed closer together near the top of the stack. At the other end of the material spectrum, cans and bottles require error handling to avoid malfunctions if a product tips over or jams.
Stacking applications take on a new level of significance in breweries, which deal with heavy crates that are as ideal for a robot with a vacuum gripper as they are unsafe for humans to load. In these installations – and especially when crates must stack high – palletizing robots provide the power, strength, speed and vision to shorten cycle times.
Just as food manufacturers palletize their products, distributors must depalletize them to fulfill orders from grocery stores or chains. The amounts of products in a warehouse vastly exceed the size of an individual order, even a large one, so distribution automation must be able to extract one layer of palletized products without disturbing the layers below. As distributors set up a palletized order, they must deal with mixed pallets made up of items as well as cases.
To fulfill the expectations of an industry that prefers single-source automation, manufacturers need a robotics portfolio that spans all the way from three to more than 1,000 kilograms, covering low to high payload applications with pose repeatability, reach, stacking accuracy, cold environment operation, waterproof and hygienic configurations. Multi-axis kinematics and flexible mounting configurations also become necessary in a variety of applications that process food items of all sizes and weights.
Along with the flexibility of the robots themselves, the food and beverage industry demands easy integration and user-friendly automation software. Object recognition must operate seamlessly and automatically to detect diverse products in equally diverse orientations. Palletizing operations require easy configuration without comprehensive knowledge of the underlying programming, automatically creating the robot program as well as the robot behavior.
An automation manufacturer with a full line of robots can tackle complex installations that require multiple reaches, payloads and other features to accommodate various parts of a production line.
System integrators need an extensive knowledge of best practices to implement effective automation for the cold, hygienic environments and washdown requirements often found in food and beverage production, especially in the dairy industry. All dairy products require refrigeration, but some must stay frozen and others must avoid freezing.
Complex palletizing and layering strategies also require in-depth experience to execute correctly in situations that switch frequently from product to product and pattern to pattern. A full-service partner can assist customers in planning, installation, training, support and preventive maintenance, starting with assessment of the types and sizes of robots best suited to each unique production line.
For food and beverage operations ranging from manufacturing through distribution, a single source of automation solutions provides the industry with the functionality and convenience to minimize production costs.