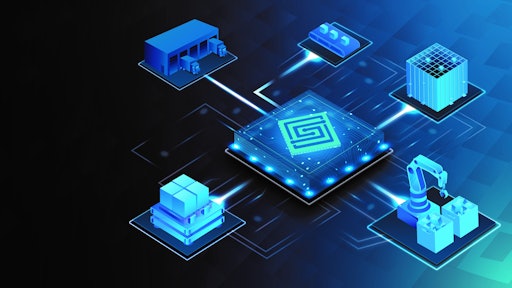 SVT Robotics
You might already have an idea of what an autonomous guided vehicle (AGV) is and what it can do. However, honestly, it's probably outdated. Just as cars, phones, computers and other technologies have evolved rapidly over the last several years, so too have robotics software and hardware.
When most people think of an AGV, they envision costly custom-made robots that follow pre-set workflows, usually guided by a magnetic tape or a wire in the floor, to perform individualized tasks. Current AGV technology has made robots more flexible in terms of the functions they can perform, the time it takes to integrate them and companies' overall cost. All of which has shifted the value of AGVs and other food supply chain automation from nice-to-haves for efficiency to must-haves for resiliency.
Resiliency is a unique and necessary trait to succeed within the current unpredictable marketplace. The impact the Coronavirus disease (COVID-19) has had on volume and volatility in food demand and supply can hardly be overstated. Just last year, the biggest concern for disruption might have been a weather event that would require a short-term delay at a manufacturing facility or in transportation. Today, an entire plant can be shut down for a week due to a COVID-19 outbreak. Additionally, demand can change suddenly based on stay-at-home mandates or changes to local ordinances. The ability to adapt to such challenges without facing catastrophic reductions in revenue, throughput or efficiency is resilience. And, AGVs can be critical to achieving it.
Here's five ways AGVs can help food supply chains.
More efficient labor.

Introducing automation doesn't always equate to replacing human labor; it can be used to help workers do their jobs more effectively. Take case picking as an example, which requires a lot of labor. Over time, it evolved from a picker walking around with a piece of paper, selecting and checking off items, to directing the picker with a headset. Now, automation is at a point where AGVs with pallets can accompany the worker through a pick zone, allowing them to pick to multiple store pallets in a zone fashion, reducing travel time and enabling the fulfillment of many more cases per hour.
Touchless movement and storage.

The effects of COVID-19 will likely be ongoing as consumer and regulatory agencies guard against food supply contamination through human handling. Robotics is a reliable and safe way to limit potential exposure. For example, AGVs can manage pallet movement throughout a facility for replenishment, put-away and storage. Sensors and navigational improvements now make it possible for AGVs to quickly and accurately roll into any trailer, secure and remove a pallet autonomously, stage it to a dock for receipt and then place it in the proper storage location until it's requires picking. 
Stable loading.

Navigational sensors have also improved to the point that they can detect a load's stability based upon pallet quality and shifting product. That is valuable because the AGV can then validate whether a load is stable at put-away every time. Historically this has been a complex challenge that very few could solve. 
Fast implementation.

Adding robotics used to require custom solutions that could take 12-18 months to implement. Integration and deployment involved tailored workflows and custom code. Thankfully, that long timeline is an issue of the past. Now, companies offer robots-as-a-service (RaaS), allowing any supplier to purchase or lease pre-built robots. Advancements have made it possible to have automated solutions implemented and deployed in as little as 4-6 weeks.
High return on investment.

The movement away from fully customized automation has made the overall cost of robotics integration much more feasible. Additionally, with an integration software, drag-and-drop reconfigurations can be deployed immediately to easily alter any robot's workflow. That means robots are now more flexible than ever and can be used for multiple tasks within the same facility or easily redeployed to another facility if something unexpected — like a COVID-19 outbreak — requires immediate assistance. Additionally, when considering employees' health vulnerabilities during black swan events such as a pandemic, supplementing your workforce with robotics ensures your supply chain can survive and thrive during times of uncertainty.  
Ultimately, the robotics industry will continue to evolve rapidly. However, that doesn't mean companies should wait to integrate AGVs or upgrade the robotics in their current supply chains. Automation companies provide manufacturers and suppliers with highly adaptable solutions designed to adjust along with the ever-changing demands of the food industry. Once adopted and integrated, AGVs can be deployed, redeployed and enhanced quickly at a controllable cost to ensure the challenges for both today, and 2021, can be easily and efficiently managed and overcome.