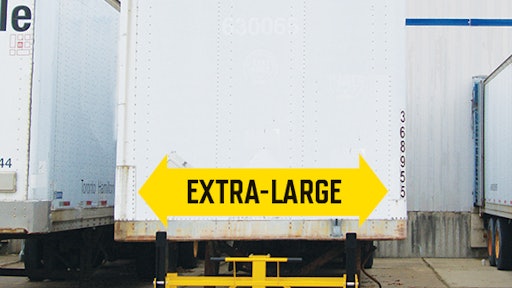 Ideal Warehouse Innovations Inc.
Ideal Warehouse Innovations Inc. introduced two new trailer stands, designed with worker safety in mind.
Placed under the nose of a docked trailer, a trailer stand is used to protect against landing gear failure, trailer tip-over and trailer upending caused by forklifts maneuvering within.
At 66 inches, the AutoStand Wide covers two-thirds of the trailer's total width, providing the ultimate protection against landing gear failure.
Without cranking or back strain, the AutoStand Wide is wheeled into position like a shopping cart, and is secured with a simple foot pedal system.
As a solution to keeping workers out of the yard and out of harm's way from trucks coming and going, Ideal Warehouse Innovations developed the Shuntable Trailer Stand.
At 60 inches wide, the Shuntable Trailer Stand delivers strong, wide support, and can be picked up, placed and later retrieved by shunt truck – all completely hands free. The Shuntable Trailer Stand is the first "no-boots-on-the-ground" solution that adds an extra layer of protection to dock safety protocol.