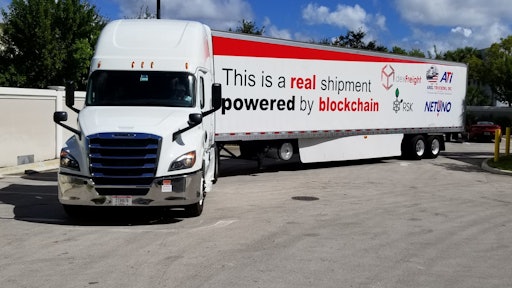 dexFreight and Ocean Protocol announced a partnership that will launch the first Web3 data marketplace for the transportation and logistics industry. The omnichannel data marketplace, which will enable companies to aggregate and monetize operational data, will be available in April of this year and will initially focus on serving U.S.-based truckload transportation providers.
"The collaboration of dexFreight and Ocean Protocol aims to break down data silos in the logistics industry," said Trent McConaghy, founder of Ocean Protocol. "In the near future, we will bring this template to other verticals as well, such as pharma, automotive and the financial service industries."
The U.S. logistics industry is comprised of 500,000 trucking companies, 16,000 brokers, and millions of shippers, and the majority of them are small and medium-size companies. Currently, they are unable to receive any compensation as actual owners of their data while third-party software vendors are able to aggregate and sell data to competitors, marketing firms, insurance companies, government agencies and others leaving them out of this revenue from data monetization opportunity.
"The dexFreight omnichannel data marketplace powered by Ocean Protocol architecture and smart contracts to trace the provenance of data will present an important opportunity for the entire logistics industry to aggregate their data and be compensated accordingly," said Rajat Rajbhandar, CIO & co-founder of dexFreight. "Through this partnership to launch the industry's first Web3 data marketplace with a transparent compensation method, we will enable/allow trucking companies, freight brokers and shippers to put their data to work, generating revenue."
Logistical Data Collection & Data Monetization
Several types of logistics data will be generated in the dexFreight omnichannel marketplace, including information on the historical location of trucks, shipment attributes, prices, indices and invoices. In the marketplace, carriers, brokers and shippers will own their data and have the option of sharing it with the community without revealing a company's identity or strategic competitive information. Users contributing data will be compensated in tokens via smart contracts. They will also have access to premium marketplace features made possible by harvesting the data, such as rate predictions.
Data Marketplace
For the Web3 omnichannel data marketplace, dexFreight will manage data gathering and pruning, clean and create metadata information, and identify government data and city pairs to be added. It will also coordinate the testing of the marketplace, handle user onboarding and relations, and gather ongoing feedback.
Ocean Protocol's role in the marketplace will enable intuitive publishing and consumption of data, and the creation of royalty distribution methods, and payment and pricing functions. The company will also develop a UX for Web3 onboarding, wallets and connections with tokens, and a system for dispute resolution.