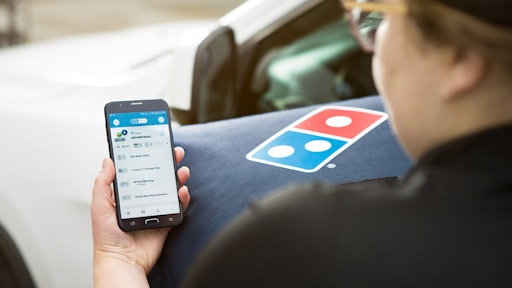 Domino's Pizza latest GPS delivery tracking technology has been approved by users.
The technology was tested for a majority of 2019 and will now be implemented in stores across the United States. By the end of 2019, roughly a quarter of locations nationwide will have it in place. A significant portion of the remaining stores are expected to have the GPS delivery tracking technology available in 2020.
Customers who order from stores that have GPS delivery tracking capabilities will be able to see the location of their order and delivery expert on an interactive map found on their order confirmation page. After customers order, they will receive an estimated delivery time and can opt into text notifications that allow them to know when their order is on its way, when it's two minutes away and when it has arrived.
"We know that customers love Domino's Tracker and the ability to monitor their orders in the store. Now they will also be able to watch their orders on the way to their house with our delivery tracker," says Dennis Maloney, Domino's senior vice president and chief digital officer. "Customers are not the only ones who love the technology – store managers and delivery experts do as well because of the transparency it provides and how it improves the delivery experience for everyone."
The operational benefits of the GPS delivery tracking technology allow store managers to view where their delivery experts are out on the road, making in-store logistics easier to manage. Delivery experts using the technology can benefit from optional navigation, one-touch customer callback capabilities and customers who are better prepared to meet them when they arrive.