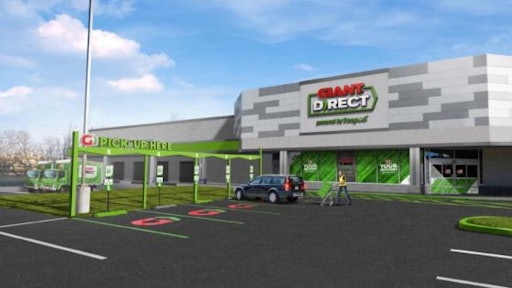 Peapod
Giant Food Stores will officially open a new e-commerce hub in Lancaster, Pennsylvania on Feb. 12. The $22 million investment includes extensive store remodels, price cuts and construction of a new off-site fuel facility, and is expected to add 150 jobs. Progressive Grocer reports thatthe hub is intended to offer a pickup option for online grocery orders, allowing them to be delivered right to the customer's vehicle.
"Not only is the e-commerce hub a completely new concept for us and a first of its kind in our area, its the product of a fruitiful collaboration with Lancaster Mayor Danene Sorace and local residents to give the Lancaster community the shopping experience they want and need," says Nicholas Bertram, president of Giant Food Stores. "Our Giant Direct, Powered by Peapod location will deliver fresh, quality foods direct to your car, direct to your home or direct to your business. We're thrilled to bring real innovation to Lancaster-area residents, but just as importantly, customers can expect the Giant Direct, Powered by Peapod experience to be personalized, inspiring, and delivered with a smile."
Progressive Grocer reports that Giant Direct, Powered by Peapod will replace the current branding model of Peapod by Giant. With the new name, the logo and customer-focused slogan will also be updated.