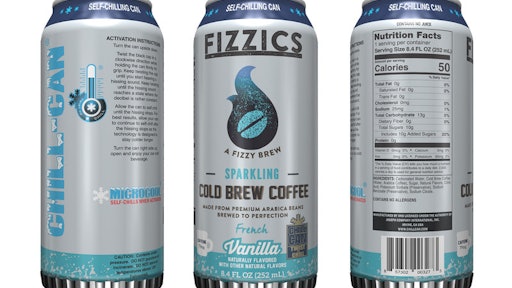 7-Eleven is introducing the first self-chilling cans and Fizzics Sparkling Cold Brew Coffee. During the test launch, Fizzics Sparkling Cold Brew Coffee will be available at select 7-Eleven stores.
The innovative Chill-Can technology filled with the Fizzics coffee drink is being tested at 15 Los Angeles area 7-Eleven stores and will be available in three flavors - regular, french vanilla and caramel.
The Chill-Can containers are purchased at ambient temperature and chilled when ready to consume. When activated, the can utilizes reclaimed CO2 and the process automatically chills the can and beverage inside.
To chill the can, customers can place the can on a flat surface, turn the can upside and twist the base to activate it until a constant hissing noise can be heard. Customers are urged not to touch the can for 90 seconds while the can is hissing because the warmth of their hands can inhibit the cooling process.
"Because the self-chilling can technology is so groundbreaking, we wanted to introduce it with a super innovative beverage," says Tim Cogil, 7-Eleven director of private brands. "Sparkling coffee sodas met all the criteria. Previously available in some coffee shops, a handful of exclusive canned carbonated brews began showing up last summer. Fizzics will be the first that can be chilled on demand, bringing a new level of convenience to customers who want to enjoy a chilled drink whenever and wherever they are."