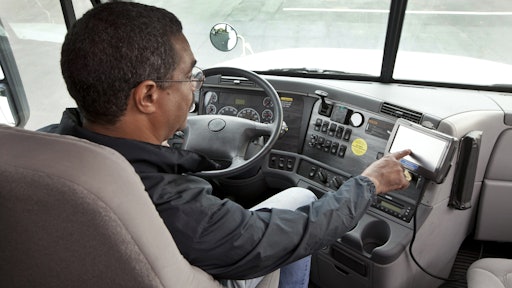 HighJump, a global provider of supply chain solutions, has announced a new integration between Prophesy Dispatch TMS and KeepTruckin, the leading electronic logs and fleet management platform for the trucking industry. By joining forces, HighJump and KeepTruckin enable truckload carriers to comply with the Federal Motor Carrier Safety Administration's (FMCSA) latest electronic logging device (ELD) rule, while streamlining their operations.
By December 2017, the FMCSA is requiring the trucking industry to implement ELDs for accurate Hours of Service (HOS) tracking. The combination of the KeepTruckin ELD solution with Prophesy Dispatch provides an affordable and simple means for small-to-mid-sized trucking companies to not only comply with the ELD mandate but also improve operational efficiency. HOS data from the KeepTruckin ELD system is seamlessly imported into Prophesy Dispatch. As a result, dispatchers have full HOS visibility and reporting capabilities via the Prophesy Dispatch user interface to ensure compliance and streamline their workflow.
The integration also enables robust eLog capabilities that increase efficiency and enhance customer service for truckload carriers. Using the HOS and vehicle location data from KeepTruckin, Prophesy Dispatch fully automates the creation of check calls and ETA calculations, along with mileage imports for IFTA fuel tax reporting. Additionally, dispatchers receive notifications if a load is running late, allowing them to manage customer expectations and plan accordingly.
"HighJump is committed to providing trucking companies with the resources to meet industry requirements and their business goals," says Chad Collins, CEO at HighJump. "Instead of focusing on administrative tasks, we enable truckload carriers to set their sights on running a smooth operation and providing their customers with the experiences they expect and deserve. Our work with KeepTruckin provides another powerful tool into our suite of integrations for Prophesy Dispatch that make this a reality."
"KeepTruckin is widely recognized as the leading smartphone-based ELD and fleet management system in the market," adds Shoaib Makani, CEO of KeepTruckin. "The combination of KeepTruckin and Prophesy gives small and mid-sized carriers the best-in-class technology to run their business efficiently. With a rapidly expanding ecosystem of third-party integrations, KeepTruckin has established itself as the next-generation electronic logs and fleet management system for the trucking industry."
Companies in this article