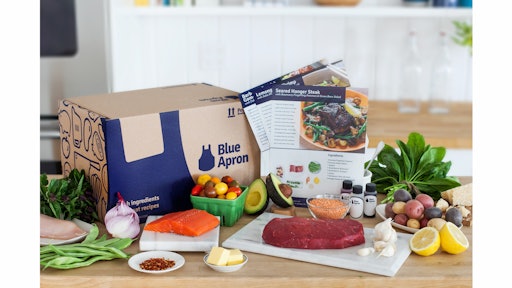 Blue Apron, a tech-adjacent meal-kit delivery start-up, just filed for an initial public offering, expected to value the company at more than $2 billion. According to its I.P.O. prospectus, Blue Apron is currently unprofitable, having sunk its considerable revenues into a major expansion and faster growth.
Blue Apron, which delivers ingredients and recipes for people to cook meals in their homes, says it generated $245 million in revenue during the first three months of 2017—an increase from $172 million during the same time in 2016. Revenue exploded from $341 million to $800 million from 2015 to 2016. And while Blue Apron's losses are growing—during the first three months of 2017, Blue Apron claims to have lost $52 million—a sizable share of that number appears to be coming from its marketing spend, which rocketed from $14 million to $144 million in two years.
As a food logistics business, Blue Apron does use technology to source supplies and deliver fresh food. But, like other so-called "food tech" start-ups, Blue Apron faces unique challenges that public software platforms like Instagram or Snapchat don't have to consider. "Unexpected side effects, illness, injury or death related to allergens, food-borne illnesses or other food safety incidents (including food tampering or contamination) caused by products we sell, or involving suppliers that supply us with ingredients and other products, could result in the discontinuance of sales of these products or our relationships with such suppliers, or otherwise result in increased operating costs or harm to our reputation," Blue Apron notes in its filing. "Shipment of adulterated products, even if inadvertent, can result in criminal or civil liability."
Other companies in the food delivery space have struggled, too. Last month saw the closure of San Francisco's Sprig and New York-based Maple, which both delivered ready-to-eat meals to customers.
To read the full original article, please click here.