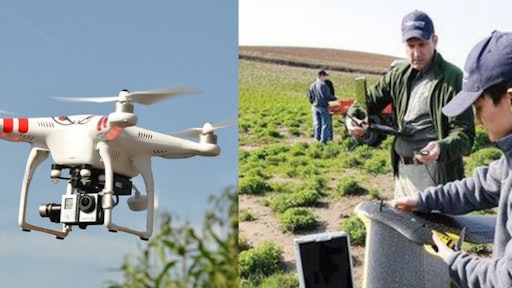 An Idaho company that has pioneered the use of drones in agriculture plans to investigate the Pocatello Regional Airport as the potential site of a future international unmanned air-freight hub.
Steve Edgar, founder of Hayden-based Empire Unmanned, presented his vision for the future of aerial shipping Nov. 18 at Idaho State University before a crowd of state leaders and economic development officials.
Though Edgar emphasized it could be more than a decade before Boeing 747-size unmanned aircraft are hauling cargo, he intends to conduct an analysis of infrastructure at the airport and the surrounding community during 2017.
Edgar said Pocatello is his top choice because of its under-served airport surrounded by open space, location on a main Union Pacific rail line and access to two interstate highways. Furthermore, he said ISU and the Idaho National Laboratory provide expertise in the field.
"Pocatello has all of the infrastructure in place if they wanted to pursue development of an unmanned aviation base," Edgar said, adding a 4.7 percent annual increase in global air freight is projected throughout the next two decades, and there's a worldwide pilot shortage. "What we're really talking about is the opening rounds of discussion."
To read more, click here.