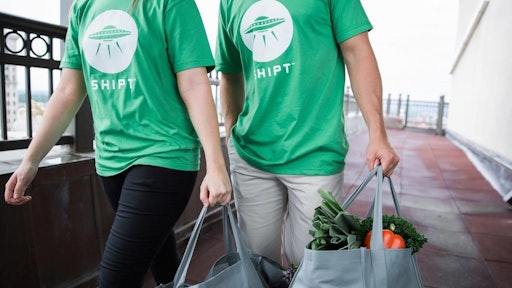 Grocery delivery startup Shipt has raised $20.1 million in funding to offer up competition to Instacart, according to The Silicon Valley Business Journal.
Greycroft Partners, Harbert Growth Partners and e.ventures participated in the Series A round. The company has raised $25.3 million to date.
CEO Bill Smith founded the startup in 2014 and launched in Birmingham, Ala. Now with offices in San Francisco, Shipt has grown to deliver groceries in 27 cities across 10 states with a community of more than 5,000 shoppers.
"Over the past year, we have laid a strong foundation for our business and scaled our service across the country," Smith said in a press release. "This funding is the catalyst that will propel us to the next level. We are ready to put this funding to work strategically, so we can cultivate new partnerships and continue building the best way to buy groceries."
Shipt partners with leading grocery retailers and a community of shoppers to provide its members with fresh groceries. For $99 a year, the Shipt app allows members to select their preferred retailer, browse a full selection of grocery items and choose a one-hour delivery window. Shipt members receive unlimited grocery deliveries on all orders over $35 and Shipt shoppers are paid per-order and average about $17 per-shop, according to TechCrunch.
To read more, click here.