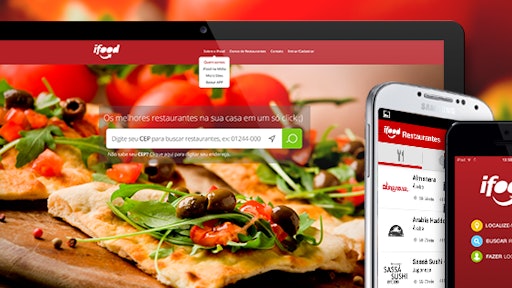 iFood, the largest online food delivery platform in Latin America, has acquired SpoonRocket's technology. This marks the 15th acquisition in two years for iFood, and will continue to bolster the company's dominance of Brazil's on-demand economy. The company plans to use SpoonRocket's robust logistics technology to optimize delivery time, enhance the restaurant-to-consumer experience, and continue its rapid expansion in Latin America and other emerging economies.
Founded in 2013 by Felipe Fioravante, iFood has dominated the Latin America online food delivery market and despite a weakening economy in Brazil, iFood has propelled local businesses by helping more than 10,000 restaurants connect with customers in 100 Brazilian cities, ultimately accounting for $138 million worth of restaurant transactions in 2015. To date, iFood has doubled its growth year-over-year and in the last 18 months, alone, iFood acquired Brazilian food delivery competitors Central do Delivery, Papa Rango, Alakarte and others, and raised $50 million from Movile and JUST EAT for a total of $61.9 million.
"Brazil has one of the strongest delivery cultures and as one of the top five delivery markets globally, we're ultimately contributing to the boost in the Brazil economy. As we look to expand beyond Latin America, this acquisition will further propel our leadership and affords us the opportunity to grow and take advantage of SpoonRocket's unparalleled logistics technology," says Felipe Fioravante, CEO and founder of iFood.
SpoonRocket was launched in 2013 by co-founders Steven Hsiao and Anson Tsui, when they saw an opportunity to deliver healthy, fast and high-quality meals to the San Francisco Bay Area, Seattle and San Diego. Since its inception, SpoonRocket has received several accolades including Best Food Delivery for San Francisco Magazine and Best Food Delivery for East Bay Express.
"We are very happy to have found a home for our technology with iFood. Even though SpoonRocket did not work out, I do believe we have one of the best food delivery systems in the world and it is amazing to see it live on through iFood," said Anson Tsui, co-founder of SpoonRocket.
Faced with massive competition in SpoonRocket's home city of San Francisco, SpoonRocket ceased operations on March 15, 2016. The terms of the deal are undisclosed.