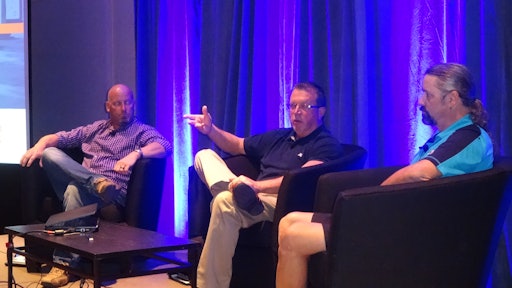 The first day of the International Foodservice Distribution Association (IFDA) Distribution Solutions Conference in Phoenix, Ariz. got down to business fast Monday morning with sessions about fleet management technology and food safety regulations. Hundreds of foodservice distributors converged on the Phoenix Convention Center to learn why they need to invest in new technology and what options are currently available. Attendees nationwide learned that fleet and vehicle management technology allows them to work more efficiently and helps them comply with more stringent food safety regulations.
Educational sessions for the three-day event address every aspect of operating a foodservice distribution business. This year's expanded trade show floor showcases hundreds of technologies and transportation equipment that today's foodservice distributors need to compete in a more competitive foodservice industry.
One of the first sessions on Tuesday drew a standing-room-only audience focusing on onboard transportation technology. This session offered unique insights as it included input from drivers and fleet supervisors. Ethan DeWall, director of warehousing for Martin Brothers Co. Inc. in Cedar Rapids, Ia., moderated the panel discussion. Panelists included Danny Duke, a driver for Shamrock Foods Co.'s Colorado division, Mike Hummel, a driver and trainer at Martin Brothers Co., and Mark Mullins, transportation manager at Ben E. Keith Foods Co. in Fort Worth, Texas.
Noting that two of the companies on the panel are currently using the DriveCam video recorder from Lytx Inc. that records driving activity, DeWall asked Hummel and Mullins to explain the impact the DriveCam recorder has had on their fleets.
"It has changed our world tremendously," said Mullins. He said the video recording has improved driver performance and made supervisors' jobs easier. Drivers have become more conscious of their driving knowing that the DriveCam is recording their driving. Mullins said this has been an important benefit to the company since they need to hire more inexperienced drivers than they used to.
Duke, whose company is not yet using DriveCam, said he thinks the device would be helpful for the company when people call them to complain about drivers' performance.
Duke said he believes bar code scanning allows drivers to work faster and more effectively.
Several audience members asked the panelists how they address driver resistance to the DriveCam system since some drivers view it as a "big brother" type of imposition on their performance.
Mullins acknowledged this challenge and said it is important to take the time to show the driver the benefit that the DriveCam can provide them. Many drivers need to recognize that using cell phones on the job is a safety hazard, for instance.
Hummel said he has found it helpful to demonstrate to drivers how the DriveCam has helped drivers.
In response to a question from the audience, panelists acknowledged that some drivers try to tape the video cameras. Hummel said that when these incidents occur, it is important to take disciplinary measures. He said drivers need to be told that if they are not doing anything wrong, they have nothing to conceal.
Mullins said attempts to tape the video recorders have not resulted in any terminations at his company.
Another audience member volunteered that it helps to use the DriveCam to show drivers when they did something good, such as prevented an accident.
DeWall then asked the panelist about electronic logging devices (ELDs). Mullins, whose company has deployed ELDs, said the systems are better than paper logs. He said ELDs have proven to be useful driving education tool. Mullins added there is a widespread misconception that drivers in general are familiar with government transportation laws.
Duke agreed that ELDs have been helpful to his company's drivers comply with driving rules.
Hummel said ELDs are easier than paper logs for drivers to use. He said drivers realize that the electronic log creates a reliable record of how they are spending their time.
DeWall then asked the panelists what bar code scanning of cases has provided their companies. All agreed that electronic bar coding has been helpful.
Mullins said that when the company introduced bar coding, many drivers resisted having to do it. In time, drivers found it helped improve customer relations. For management, Mullins said the bar coding gives the company a way to show customers they are servicing them when they want to be serviced.
Bar coding is not perfect, Mullins said, because there is still the human element involved. However, he said that he believes none of the company's drivers today would want to stop using bar code scanners.
When asked what new technology they would like to see, all panelists agreed they wanted to see ways to prevent rear-end collisions, the most common accident.