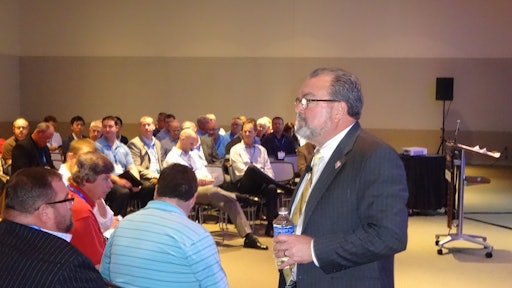 Foodservice distributors got plenty of insight on how to keep up with a changing foodservice marketplace during the International Foodservice Distributors Association (IFDA) Distribution Solutions Conference in Phoenix, Ariz., this week. Hundreds of distributors converged on the Phoenix Convention Center to learn why they need to invest in new technology and what options are currently available.
Sessions covered everything from onboard vehicle computers to food safety regulations to motivating route drivers. The trade show showcased many new technologies for foodservice distribution.
The best attended sessions included an update on the Food Safety Modernization Act, the "boot camp" peer-to-peer exchange, and slotting optimization practices.
One of the most interactive sessions was "A Co-op Perspective, What They Need in A Distributor Partner," which explored what a national supply chain co-op looks for in a distribution partner. Ed Medlock, senior vice president of distribution, logistics and supply chain for Wendy's International based in Dublin, Ohio, gave an overview of what his organization looks for in its distribution partners. Medlock emphasized the need for distributors to be up-to-date on new technology and to have systems in place to ensure good communication with the company's franchisees.
The Wendy's International supply chain cooperative manages the distribution for 95 percent of the company's franchisees – about 288 in total – overseeing 18,000 weekly deliveries to about 61,000 restaurants. Medlock noted that distributors have to understand there is a difference between a system distribution system and a broadline system.
Medlock stressed the significance of the technological changes taking place in foodservice distribution. Wendy's International has a set of metrics that distributors must follow. For example, the company is deploying the GS1 standards initiative, a voluntary, collaborative industry effort to help businesses identify, capture and share information. "If you're not fully engaged in GS1, you need to be," Medlock said.
He noted that in 2016, all products in the Wendy's International supply chain will have the GS1 128 bar code. The GS1-128 barcode enables a distributor to efficiently capture and track information critical for traceability such as vendor lot numbers and vendor dates.
"Metrics are key," Medlock said. "We measure everything, every week." Wendy's has a strong focus on in-stock inventory for every SKU its franchisees need.
"We clearly believe in technology," Medlock said.
A Wendy's distributor has to have a culture that is responsive to franchisee needs at all levels, Medlock said. The distributor must establish a collaborative relationship with its franchisee customers to ensure consistent service and maintain Wendy's standardized processes.
During the question and answer period, an attendee asked how Wendy's manages limited time offers (LTOs). Medlock acknowledged that LTOs are a challenge for a franchise organization and said the company has worked to provide forecasts for these offers. He said the company recognizes the need to communicate to distributor partners about its LTO forecasts. He said the organization has conference calls with distributors to discuss their concerns.
Medlock reviewed the most important distributor attributes, noting that service is number one, followed by price, quality and innovation.
Distributors need to have a process in place to review delivery performance, he noted.